Circumstances surrounding the trial, the assassination itself, accounts in the Press and subsequent official actions were peculiar, that to this day, the question of who killed Malcolm is still with us.
In 1981, in an intimate talk I interviewed Talmadge Hayer from his prision cell. Hayer explained in 1981 what his and his co-conspirators' motivations were and what happened the day. Malcolm X was killed on February 21, 1965, at the Audubon Ballroom in Harlem, New York. Talmadge Hayer, the only man to admit shooting Malcolm X, was released after serving 45 years. (TBJ #1603 -- The Assassin)
CIRCUMSTANCES SURROUNDING THE TRIAL, THE ASSASSINATION ITSELF, ACCOUNTS IN THE PRESS AND SUBSEQUENT OFFICIAL ACTIONS WERE SO PECULIAR, THAT TO THIS DAY, THE QUESTION OF WHO KILLED MALCOLM IS STILL WITH US.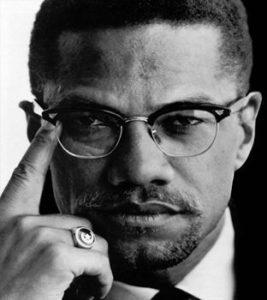 Two Men Convicted of Malcolm X Murder Are Exonerated
In 2021 New York State Supreme Court Judge Ellen Biben tossed the convictions of Muhammad A. Aziz and Khalil Islam. Messrs. Aziz and Islam and a third man, Thomas Hagan, spent decades in prison after a jury found them guilty in 1966 of gunning down Malcolm X while he gave a speech at the Audubon Ballroom in Manhattan. Mr. Hagan, a militant member of the Nation of Islam, testified that he shot Malcolm X with a revolver out of anger, according to court filings. Malcolm X had been associated with the Nation of Islam for years before publicly breaking from the group in 1964.
Messrs. Aziz and Islam always maintained their innocence in the killing and fought to clear their names, even after they were paroled. Mr. Hagan, who previously was known as Talmadge X Hayer, also testified that Messrs. Aziz and Islam weren't involved in the shooting and weren't present at the ballroom, according to court documents. ("Two Men Convicted of Malcolm X Murder Are Exonerated," By James Fanelli and Corinne Ramey, Wall Street Journal, 11/18/21, p. A3)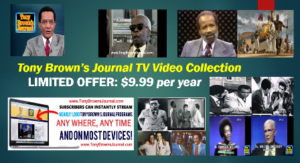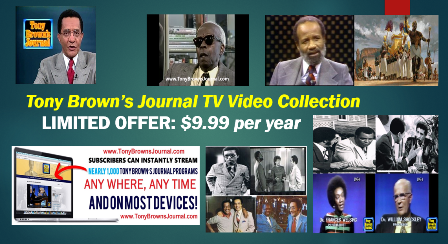 Tony Brown offers educators, students, homeschoolers and parents access to a new visual streaming learning tool for Black history and culture Tony Brown's Journal, "the most complete and thoughtful record of African-American opinion," is in the process of offering one of the most cutting-edge educational tools for streaming to educators, homeschoolers, students and parents. The entire digitally re-mastered TonyBrownsJournal.com collection of nearly 1,000 historical, health and public affairs video and film content that was produced by award-winning journalist Tony Brown on national television for over 40 years (1968-2008) is now being offered in this rare cutting-edge educationally purposeful opportunity for as little as $9.99 per year.
NEXT WEEK: Malcolm & Elijah
Historically, TONY BROWN IS also …
Coordinator of the "Walk To Freedom with Martin Luther King, Jr." in Detroit (1963), according to the July 29, 1963 edition of Business Week magazine, "the largest civil rights march in history."
WINNER of the prestigious silver circle award from the national academy of television arts & sciences
Dean Emeritus and Professor, Scripps Howard School of Journalism and Communications, Hampton Univ
First and Founding Dean and Professor, School of Communications, Howard University
Founder, BLACK COLLEGE DAY, 1980
2015-2016 National Association of Black Journalists Hall of Fame Inductee
Black Emmy Nominee – 1989 Special Recognition Award Winner
Distinguished Visiting Professor, Honorary Degree – American University, Paris, France
Talker's, Radio Trade Magazine
Selected as "One Of The 100 Most Important Radio Talk Show Hosts In America"
"Tony Brown Chicago," WLS-AM Radio (Chicago)
"Tony Brown," WLIB-AM Radio (New York)
"Tony Brown's Journal

"/"

Black journal"

(TV series: 1968-2008):
"The Most Complete and Thoughtful Record of AFRICAN-AMERICAN OPINION."
U. S. Army 272 field artillery (s-1) battalion AND cadre (1953-1955). Neu-Ülm, GERMANY. Honorable discharge
BLACK HISTORY