IF YOU ARE POOR LIKE I USED TO BE, BLACK LIKE I WILL ALWAYS BE AND YOU ARE NOT AMONG THE RICH PEOPLE WHO BUY COLLEGE DEGREES FOR THEIR CHILDREN – THIS IS A FORMULA THAT CAN HELP YOUR CHILD HONESTLY EARN STRAIGHT "A" GRADES. (Stay tuned next week for Part II)

This formula seems to work for boys, girls, Blacks, Whites and everyone in between: High school grades determine college grades and college grades determine income after college - or whatever part of the menu you can afford.
In other words, short of becoming a dummy and a person without character, you can become a scholar. And the way to make better grades is, studies suggest, through the number of hours devoted to study. But, unfortunately, many in today's society are no longer following this honorable path for past winners.
As a result, recent scandals and the celebrity class has produced an education crisis (for example, only 31 percent of high school graduates can read a book); a crisis of underperformance among Black college undergraduates account for over 50 percent of the racial gap in college grades; a boy crisis; and recently a crisis of criminal behavior among America's rich celebrity caste collusion in education with malevolent educators. Crises, however, have origins.
All of this upper-class social pathology could have been overcome by studying six hours per day (every day). When we don't expect anything from boys, for example, that's what we get. Not just Black boys, but White boys and all boys. Black boys were in crisis first partly because adverse societal phenomena strike a society's most marginal groups first before moving inland to the more protected populations, and partly because of self-inflicted damage due to ethnic, cultural and historical patterns.
Ultimately, however, all of civilization becomes degraded because, in reality, the social media trends in America suggest that we are more connected than most of us realize. That's why when we push boys exclusively toward non-intellectual and physical activities because that's all we expect of them, or because we are afraid that intellectual activity might somehow set-off a homosexual gene, we tend to get back in large numbers what some now ironically call "defective girls." If boys are to become the intellectual equals to girls, or if Blacks are to close the academic performance gap with Whites and Asians, then boys and Blacks must do academically what the most successful academic groups do: make a commitment to sufficient time spent studying.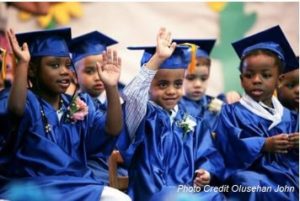 Unfortunately, low expectations and Blacks have become synonymous; now "boys" is being added to the marginal language category. That development is even more ominous because the bigotry of low expectations and mediocrity effect overachievers as well. In my work, I must detect this phenomenon. Therefore, I am careful about accepting "A" and "B" students at face value. I am only satisfied when they "become what they can be and what they ought to be."
That means an "A" student who studies one hour a day and is satisfied with not finding out what they could become if they studied six hours a day, seven days a week, is a quintessential underperformer, in my opinion. And some conspicuous overachievers are invisible underperformers, who are being encouraged by everyone's good intentions to take a bow for being average.  That's where the famous German philosopher known simply as Geothe and mature elephants become relevant.
"Teenage male elephants in a South African game park stopped their delinquent behavior after several adult bulls were introduced into the herd," columnist William Raspberry wrote about elephants and delinquency. This clever example suggests that the change in behavior in elephants is the result of the presence of more mature role models and better values that stamp out delinquent behavior by encouraging higher standards. And, if what is true for elephants is also true for humans, then Geothe said it best: "If you treat an individual as he is, he will stay as he is, but if you treat him as if he were what he ought to be and could be, he will become what he ought to be and could be."
Tony Brown's upcoming and final book: "Walking Between The Raindrops"For info on the contents and the release date click:
www.TonyBrownsJournal.com/Upcoming-Book
Coordinator of the "Walk To Freedom with Martin Luther King, Jr. March"in Detroit (1963), according to the July 29, 1963 edition of Business Week magazine, "the largest civil rights march in history."
WINNER of the prestigious silver circle award from the national academy of television arts & sciences
Dean Emeritus and Professor, Scripps Howard School of Journalism and Communications, Hampton University
First and Founding Dean and Professor, School of Communications, Howard University
2015-2016 National Association of Black Journalists Hall of Fame Inductee
Black Emmy Nominee – 1989 Special Recognition Award Winner
"The Most Complete and Thoughtful Record of African-American Opinion"