TonyBrownsJournal.com presents "The History of Black Music – Part 2" as a tribute to the outstanding faculties, staffs, and students at the 107 Historically Black Colleges and Universities (HBCUs).
During this period of American cultural decline, African-American culture is getting a big boost from Black music at Historically Black Colleges and Universities (HBCUs). This reminds me of back in 2002 when Hampton University's choir and a plethora of other HBCU choirs appeared in a stunning Las Vegas stage production that aired nationwide on Tony Brown's Journal; it was entitled "The History of Black Music" (TBJ #2606 & TBJ #2607).
The unique music history lesson, in this two-part Tony Brown's Journal program special vocal extravaganza, showcased the talents of choirs, groups and soloists from the nation's Black colleges and universities in riveting, live stage performances.
Fast Forward: "HU Band Heading To Battle" read the headline of the Daily Press newspaper Monday, November 27, 2017. Thomas Jones, director of bands at Hampton University (HU), learned in late October that the school's Marching Force unit had been selected as one of eight finalists to compete in the Honda Battle of the Bands Invitational Showcase in Atlanta, Georgia. ("HU Band Heading To 'Battle,'" Mike Holtzclaw, Daily Press, 11/27/17).
This announcement was celebrated as Hampton began preparing for its 150th anniversary. Hampton University is one of the nation's most prestigious historical Black universities. In 1999, it was cited as one of the top regional universities in the South.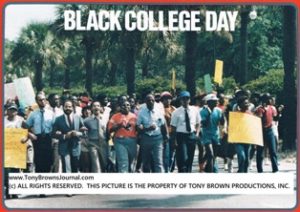 MAKING BLACK HISTORY Tony Brown established the first Black College Day in 1983, which increased the budget for historically Black colleges and universities (HBCUs) by $5,000,000.
"TONY BROWN GETS REAGAN TO HELP BLACK COLLEGES" – Jet Magazine
"Few individuals have taken up the cause for Black colleges like television commentator and producer Tony Brown – from a March on Washington to a celebration of a special Black College Day." So, said Jet magazine in an article on the well-known journalist's crusade to save Black colleges.
"His one-man campaign wound up in the State Room of the White House when President Reagan promised aid. This venture started during the campaign when Reagan was the only presidential candidate to answer Brown's request for support of a Black College Day." In addition to bringing to light Mr. Brown's efforts to stop the destruction of these historically Black institutions of higher learning, the Jet article highlighted the historic White House event: "Some 100 guests, including presidents of Black colleges and the administration's leaders in the field of education, lunched together after witnessing the signing of a new contract to guarantee that the administration would implement a support program for Black colleges which will include aid from private business, and colleges' participating in federally sponsored programs."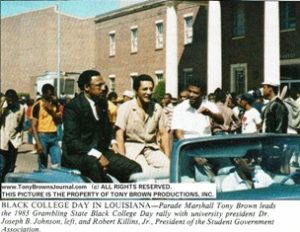 TONY BROWN'S JOURNAL BLACK HISTORY AND BLACK-AFFAIRS VIDEO & FILM CLASSICS
Let TonyBrownsJournal.com do the teaching with 1,000 streamed videos into your home, your office or onto your mobile device for a true Black history education. FOR MORE INFO VISIT: www.TonyBrownsJournal.com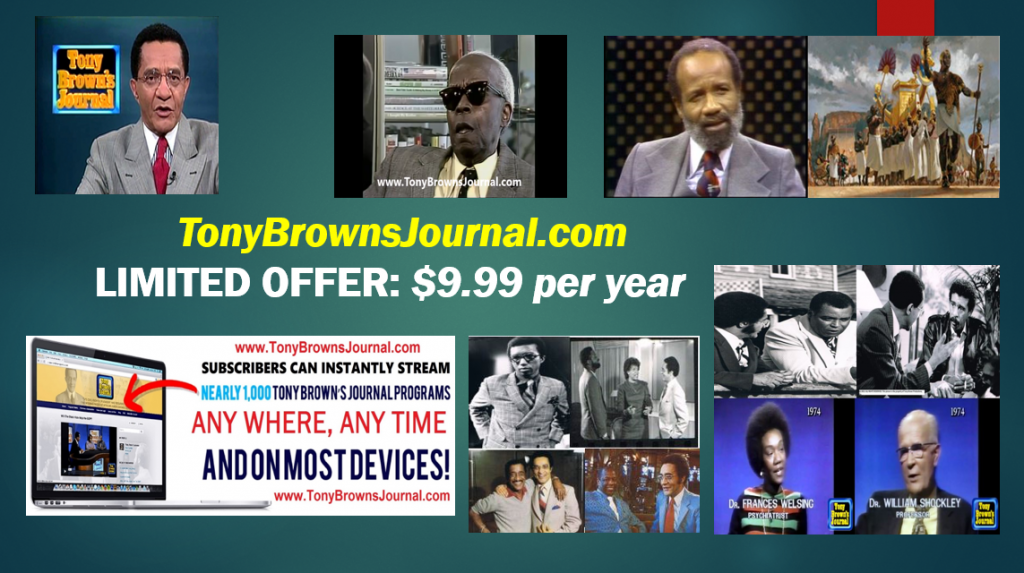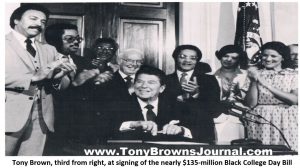 BLACK COLLEGE DAY BILL- White House cabinet members and advocates of equal education look on as President Reagan signs Executive Order 12320, just one year after the first historic Black College Day rally in Washington, DC, that increased the amount of federal funds to these institutions by $9.6 million. From left to right are: Education Secretary Terrell Bell, Tony Brown, Founder and Chief Coordinator of Black College Day, Thelma Duggan, Coordinator of Minority Affairs at the Department of Transportation; and Transportation Secretary Elizabeth Dole.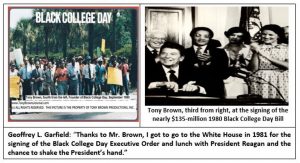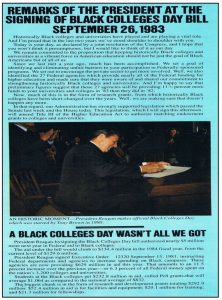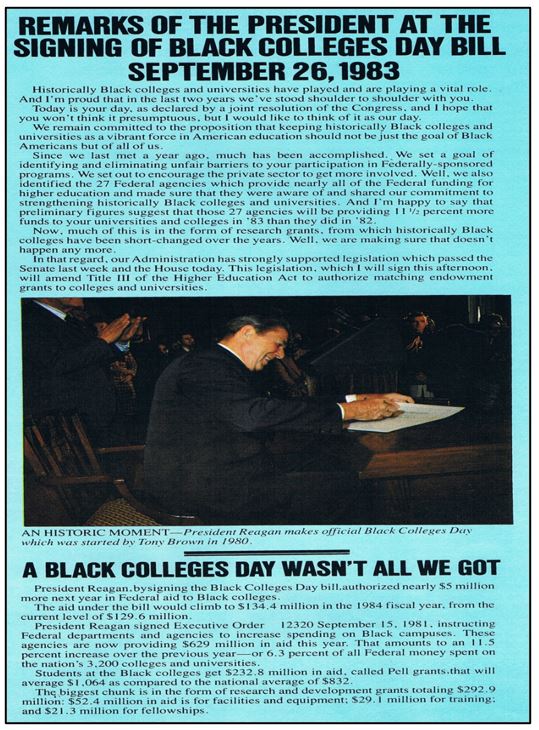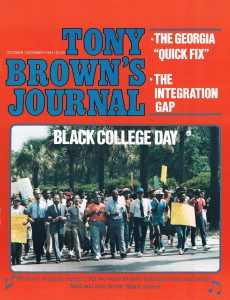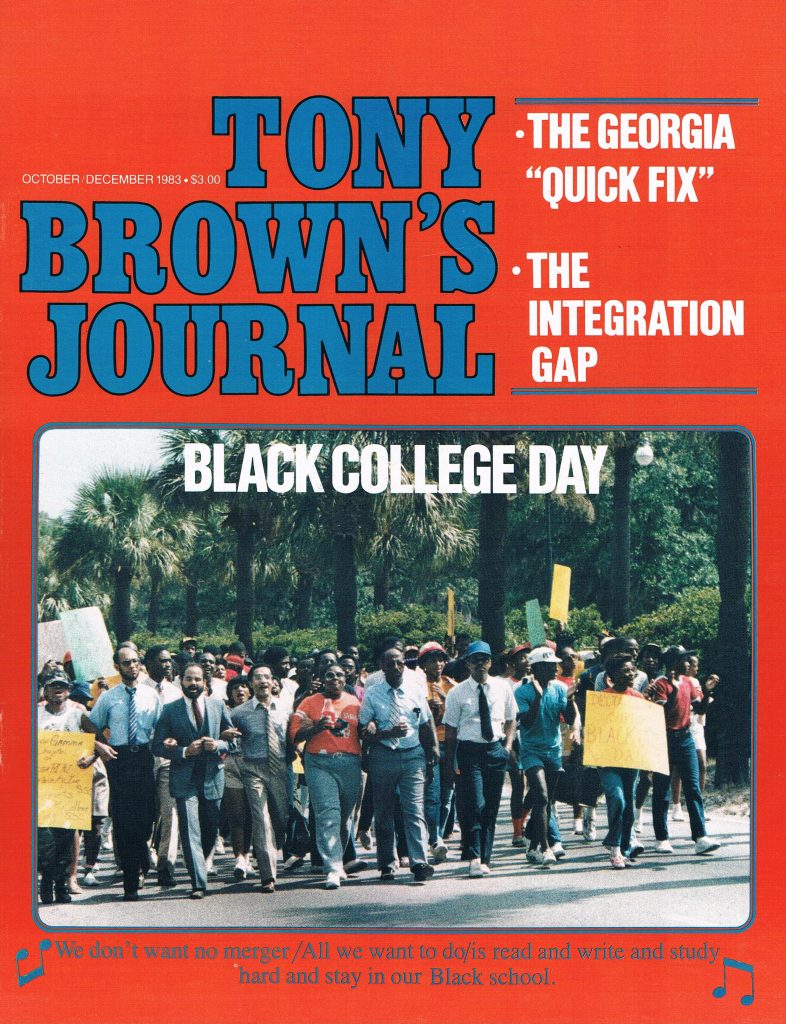 LEADERS OF THE BLACK COLLEGE DAY MARCH IN 1980; THE ULTIMATE UNITY RALLY. Supporters of Black colleges from around the country demonstrated to save Black colleges from new federal and state desegregation plans that threatened their historic role. This 1983 Black College Day massive march and rally in Savannah, Georgia, protested the merger plans of two Black colleges in Georgia.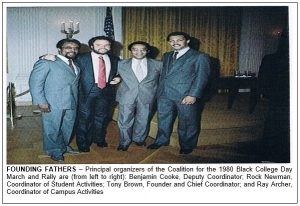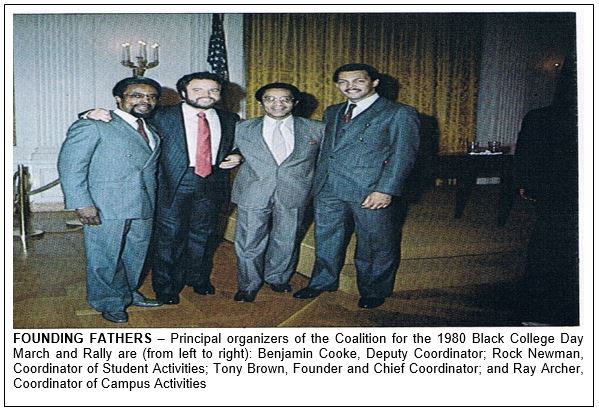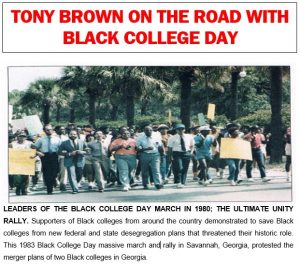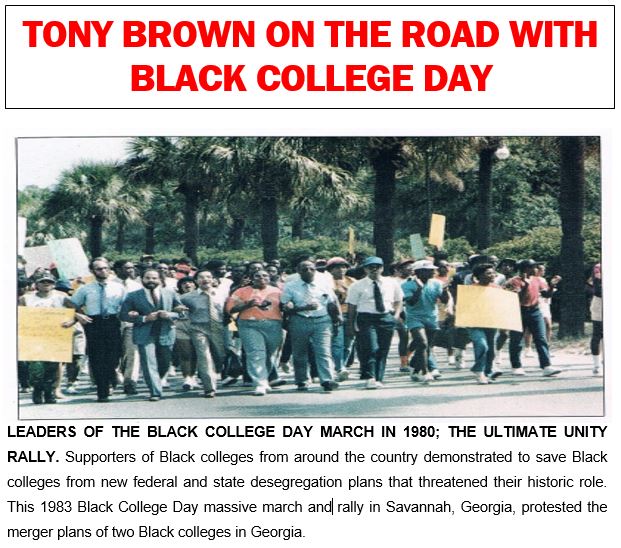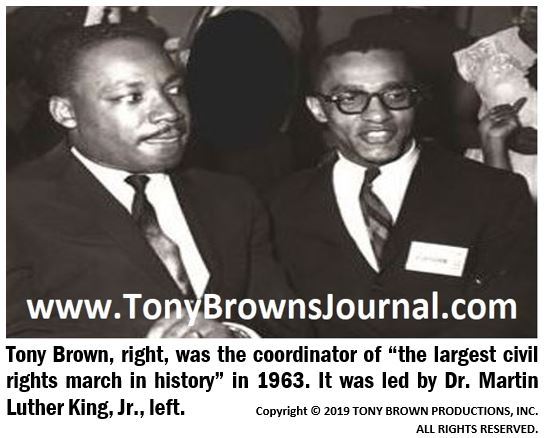 Historically, TONY BROWN IS also …
Coordinator of the "Walk To Freedom with Martin Luther King, Jr." in Detroit (1963), according to the July 29, 1963 edition of Business Week magazine, "the largest civil rights march in history."
WINNER of the prestigious Silver Circle Award from the National Academy of Television Arts & Sciences
Dean Emeritus and Professor, Scripps Howard School of Journalism and Communications, Hampton University
First and Founding Dean and Professor, School of Communications, Howard University
Founder, BLACK COLLEGE DAY, 1980
2015-2016 National Association of Black Journalists Hall of Fame Inductee
Black Emmy Nominee – 1989 Special Recognition Award Winner
Distinguished Visiting Professor, Honorary Degree – American University, Paris, France
Distinguished Visiting Professor, Central Washington University, Ellensburg, WA
Talker's, Radio Trade Magazine: Selected as "One Of The 100 Most Important Radio Talk Show Hosts In America"
"Tony Brown Chicago," WLS-AM Radio (Chicago)
"Tony Brown," WLIB-AM Radio (New York)
"Tony Brown at Daybreak," WRC-TV (Washington, DC)
"Tony Brown's Journal"/"Black Journal" (TV series: 1968-2008): "The Most Complete and Thoughtful Record of AFRICAN-AMERICAN OPINION."
U. S. Army 272 field artillery (s-1 Intelligence) battalion AND cadre (1953-1955). Neu-Ülm, GERMANY. Honorable discharge
BLACK HISTORY
WE STOOD WITH MARTIN LUTHER KING, JR.
"I was there 50 years ago, in 1963, one of the last two Directors left standing, where 500,000 marchers once stood." --Tony Brown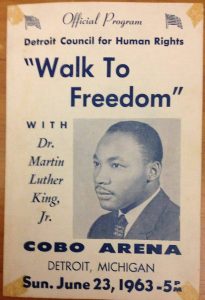 "LARGEST CIVIL RIGHTS MARCH IN HISTORY"
The following week, in its July 29, 1963 edition, Business Week magazine called the Detroit event the "largest civil rights march in history." Subsequently, an official police source, in an affidavit, confirmed an attendance of "no fewer than 250,000 and as many as 500,000 people." Black people came mostly from throughout the nearby Midwest region.
More official confirmation has been forthcoming since then. Nearly 40 years later, in 2003, The Wall Street Journal would report on page one that the famed King Dream Speech may have had its roots -- not at the March on Washington (which drew 250,000), on August 28, 1963, but elsewhere, perhaps 66 days before in Detroit, Michigan where the attendance may have reached, according to an official police affidavit, 500,000 people.
Although I had no official role in the Washington March, I did witness it as a Detroit correspondent for the national Pittsburgh Courier newspaper chain of African-American local publications throughout the United States, an affiliate of the Black Press, from the steps of the Lincoln Memorial within a few feet of Dr. King and I was included in Life magazine's limited photo coverage of this historic event.
All of this in only 66 days! My head was spinning with excitement and wonderment. It seemed that my Detroit decision to choose activism as a way of life had become my destiny.
2013 – 50th Anniversary "Walk to Freedom March" – Detroit, MI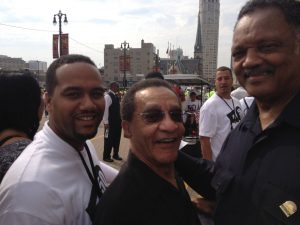 Tony Brown (center) Grand Marshal of the 2nd and final Detroit March on June 22, 2013, drew 200,000, with his grandson Remy Harris (left) and Jesse Jackson (right).