Dean Emeritus, Scripps Howard School of Journalism and Communications, Hampton University
First and Founding Dean, School of Communications, Howard University -- (Click www.tonybrownsjournal.com/blog/who-is-tony-brown)
During this period of American cultural decline, African-American culture is getting a big boost from Black music at Historically Black Colleges and Universities (HBCUs). This reminds me of back in 2002 when Hampton University's choir and a plethora of other HBCU choirs appeared in a stunning Las Vegas stage production that aired nationwide on Tony Brown's Journal; it was entitled "The History of Black Music" (TBJ #2606 & TBJ #2607).
The unique music history lesson, in this two-part Tony Brown's Journal program special vocal extravaganza, showcased the talents of choirs, groups and soloists from the nation's Black colleges and universities in riveting, live stage performances.
Fast Forward: "HU Band Heading To Battle" read the headline of the Daily Press newspaper Monday, November 27, 2017. Thomas Jones, director of bands at Hampton University (HU), learned in late October that the school's Marching Force unit had been selected as one of eight finalists to compete in the Honda Battle of the Bands Invitational Showcase in Atlanta, Georgia. ("HU Band Heading To 'Battle,'" Mike Holtzclaw, Daily Press, 11/27/17).
This announcement is being celebrated as Hampton begins preparing for its 150th anniversary.  Hampton University is one of the nation's most prestigious historical Black universities.  In 1999, it was cited as one of the top regional universities in the South.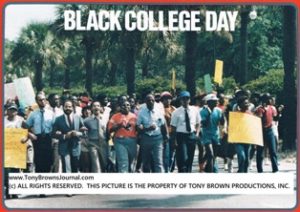 MAKING BLACK HISTORY    Tony Brown established the first Black College Day in 1983, that increased the budget for historically Black colleges and universities (HBCUs) by $5,000,000.
"TONY BROWN GETS REAGAN TO HELP BLACK COLLEGES" – Jet Magazine
"Few individuals have taken up the cause for Black colleges like television commentator and producer Tony Brown – from a March on Washington to a celebration of a special Black College Day." So, said Jet magazine in an article on the well-known journalist's crusade to save Black colleges.
"His one-man   campaign   wound   up in the State Room of the White House when President Reagan promised aid. This venture started during the campaign when Reagan was the only presidential candidate to answer Brown's request for support of a Black College Day."  In addition to bringing to light Mr. Brown's efforts to stop the destruction of these historically Black institutions of higher learning, the Jet article highlighted the historic   White House event: "Some 100 guests, including presidents of Black colleges and the administration's leaders in the field of education, lunched together after witnessing the signing of a new   contract to guarantee that the administration would implement a support program   for Black colleges which will include aid from private business, and colleges' participating in federally sponsored programs."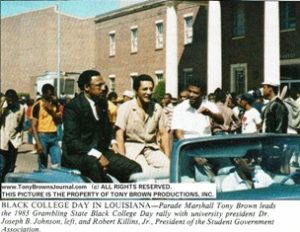 TONY BROWN'S JOURNAL BLACK HISTORY AND BLACK-AFFAIRS VIDEO & FILM CLASSICS
 Let TonyBrownsJournal.com do the teaching with 1,000 streamed videos into your home, your office or onto your mobile device for a true Black history education.
FOR MORE INFO VISIT: www.TonyBrownsJournal.com