TBJ #503 – Malcolm and Elijah: Decades before Hollywood discovered this Academy Award winner, his 1982 performance on Tony Brown's Journal as Malcolm X (the physical resemblance is stunning) marked the striving-actor young Denzel Washington's place in history. It was his first performance before a national audience, thanks to stage producer Woodie King, Jr.  The New York Off-Broadway play produced by King revolves around the conflict between Elijah Muhammad, leader of the Nation of Islam, and his verbal whip, Malcolm X.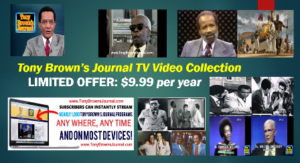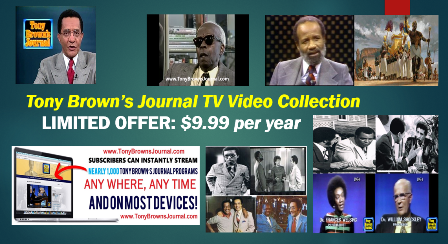 NEXT WEEK: TBJ #728: Uptown at the Appllo: Richard Pryor, Sammy Davis, Jr., Stevie Wonder and Sam Moore are among the artists who have had their names in lights outside of the legendary Apollo Theatre in Harlem. They appear with Tony Brown when he turns the pages of history and goes back in time to salute this mecca of Black entertainment and the soul of the nation's Black community at that time.
Tony Brown's Journal, "the most complete and thoughtful record of African-American opinion," is in the process of offering one of the most cutting-edge educational tools for streaming to educators, homeschoolers, students and parents.
The entire digitally re-mastered TonyBrownsJournal.com collection of nearly 1,000 historical, health and public affairs video and film content that was produced by award-winning journalist Tony Brown on national television for over 40 years (1968-2008) is now being offered in this rare cutting-edge educationally purposeful opportunity for as little as $9.99 per year.
Historically, TONY BROWN IS also …
Coordinator of the "Walk To Freedom with Martin Luther King, Jr." in Detroit (1963), according to the July 29, 1963 edition of Business Week magazine, "the largest civil rights march in history."
WINNER of the prestigious silver circle award from the national academy of television arts & sciences
Dean Emeritus and Professor, Scripps Howard School of Journalism and Communications, Hampton University
First and Founding Dean and Professor, School of Communications, Howard University
Founder, BLACK COLLEGE DAY, 1980
2015-2016 National Association of Black Journalists Hall of Fame Inductee
Black Emmy Nominee – 1989 Special Recognition Award Winner
Distinguished Visiting Professor, Honorary Degree – American University, Paris, France
Talker's, Radio Trade Magazine Selected as "One Of The 100 Most Important Radio Talk Show Hosts In America"
"Tony Brown Chicago," WLS-AM Radio (Chicago)
"Tony Brown," WLIB-AM Radio (New York)
"Tony Brown's Journal"/"Black journal" (TV series: 1968-2008): "The Most Complete and Thoughtful Record of AFRICAN-AMERICAN OPINION."
U. S. Army 272 field artillery (s-1) battalion AND cadre (1953-1955). Neu-Ülm, GERMANY. Honorable discharge
BLACK HISTORY
Great Events In African-American History
Tony Brown Donates $100,000
www.TonyBrownsJournal.com/blog/Tony-Brown-Donates-100k
Tony Brown with Hampton University Journalism Students Make History At The New York Times Harvard, Columbia, Syracuse Place Second In Competition
www.TonyBrownsJournal.com/blog/Tony-Brown-With-HU-Makes-history