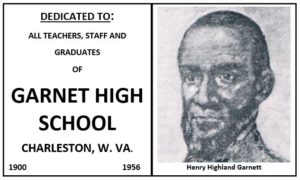 Henry Highland Garnett was born a slave in Newmarket, Maryland in 1815. He was a pure-blooded African of the Mandingo tribe of fierce warriors in Sudan, Africa. At the age of 10, along with his parents, he escaped from slavery and settled in New York City. He was educated at Canaan Academy in New Hampshire, and graduated from Oneida Institute near Utica, New York in 1840. Subsequently, he majored in theology and in 1842 became a pastor of a Presbyterian church in New York City from 1855 until 1881. Later President James Garfield appointed him as the Minister Resident and Consul General for the United States to Liberia. Henry Highland Garnett died in 1882, just a few months after assuming his new post as an American ambassador.
GARNET HIGH SCHOOL VIDEO CLIP
My beloved 91-year-old genius sister, Jacquelyn McCullough, is also a graduate of the all-Black Garnet High School in Charleston, W. Va. that was founded in 1900 to honor Henry Highland Garnett, an abolitionist and former slave in colonial America. She recently made the following comment about my previous March 22, 2019 blog post: "This is excellent!  It should be required reading for every parent upon registering a child in school for the first time — Pre-Kindergarten or whatever is the first level. It is a Blueprint for Success." – Jacquelyn McCullough, former Vice President, Board of Directors, Washington (DC) Literacy Center
If you would like to read Part I of "If You Are Poor Like I Used To Be, Black Like I Will Always Be And You Are Not Among The Rich People Who Buy College Degrees For Their Children – This Is A Formula That Can Help Your Child Honestly Earn Straight "A" Grades," click www.TonyBrownsJournal.com/blog. 
PART II
A good role model must insist on good behavior. We can start with a famous Army promotional slogan -- "Be all that you can be." In rehabilitating humans, my recipe is to add a pinch of Geothe and the mature elephants and we end up with "becoming more than you thought you could be." During my years as a dean of journalism and communications, my faculty members were trained to think of themselves as mature elephants, or empathetic role models, who challenged students to a higher-than-conventional standard of academic performance – the limiting restrictions of racialism be damned.
Neither ethnicity nor ancestral background were permitted to influence our opinion of the potential of any student. That would be the bigotry of low expectations. That's why Geothe's message of "being more than you think you can be" resonates so well with me and why my gold standard is excellence.
My Mama taught me that power is an illusion if it is not the power of the spirit and that wealth is counterfeit if it is not the wealth of the heart. Indeed, six hours a day of study could be a simple solution to the complex problem of learning.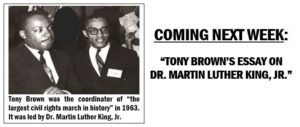 OPEN THE DOORWAY TO HIGHER EDUCATION AND BETTER-PAYING JOBS Studies show that all grades across the board are indexed to English grammar proficiency, i. e., if you make good grades in English grammar and proficiency, you are more likely to make high grades in math, social science and other subjects as well.  Perhaps, it is even more probable that if you finish the four easy-to-use, game-like modules, you may have acquired a knowledge-base of grammar, usage, mechanics, and punctuation lessons online that are the academic equivalent of a high school English teacher.
TEST SCORES IMPROVED BY 31%  For example, I first introduced this English grammar and punctuation learning system into the curriculum at the predominately African-American Scripps Howard School at Hampton University, one of the best journalism and communications programs (public relations) in the U. S. In just a short time, student grammar test scores increased by 31%.
As a result of our focus on being a writing school, the Scripps Howard School became a rare national example of diversity that was achieved through academic excellence in journalism.
A COMPETITIVE JOURNALISM PROGRAM  This fact gradually became self-evident within the field of journalism and was acknowledged, as well. For example, in 2008, The New York Times selected 18 college journalism students from across the country for its widely-recognized and much sought-after summer internship class that year. But unlike any previous year, one of the most prestigious newspapers in the nation picked three students from the same journalism and communications school: the Scripps Howard school of journalism and communications at Hampton University.  Even more astonishing is the racial/demographic composition of the almost 100% African-American student universe of the winning Scripps Howard School and a significant diversity breakthrough for African Americans in higher education.
 "PARTICULARLY IMPRESSIVE"  "In any given summer, it hasn't been all that uncommon to have two interns from the same school – for example, this year we'll have two each from Syracuse, Columbia and Harvard – but I don't recall ever having three from the same school," Sheila Rule, a Times senior editor, told an Internet journalist.
"Congrats to you and everyone at Hampton for placing all the summer interns at The Times," said Don Hecker, Director of The New York Times Student Journalism Institute. "It's quite an accolade. Forget whether it's a record for a HBCU (Historically Black Colleges and Universities), it's probably a record for any school, including the traditional heavyweights like Harvard, Yale and the big schools with long-recognized journalism programs. And particularly impressive because we have one of the smallest internship programs among the big papers."
A CERTIFICATION STATEMENT THAT LIFTS ALL BOATS  Therefore, when someone masters the four modules of the 2019 new version of this English grammar learning system, very similar to a video game, that I successfully employed previously as an academic dean and professor of journalism, the student is awarded a certificate to attract current or future employers and other interested parties who can help advance career goals and earn a higher income at an enhanced-skill level.
This means that the rules of English grammar are now available to the entire world anywhere a computer or mobile device is available. That's why in the near future, better grades and higher paying jobs will be more available to all socio-economic groups anywhere in the world. Succinctly, students from 7th grade through college and adult workers are now able to master English grammar in as few as 15 hours and the entire program in 35 hours.
The mastery of English grammar also leads to improved reading comprehension, and it supports the building of a solid foundation in the sciences. The goal of the 2019 version of the English Grammar Learning System is to become your teacher and coach for core training in an expanding digital world where equality of opportunity is paramount.