Open The Doorway To Higher Education and Better-paying Jobs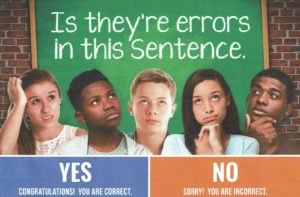 Studies show that all grades across the board are indexed to English grammar proficiency, i. e., if you make good grades in English grammar and proficiency, you are more likely to make high grades in math, social science and other subjects as well.  Perhaps, it is even more probable that if you finish the four easy-to-use, game-like modules, you may have acquired a knowledge-base of grammar, usage, mechanics, and punctuation lessons online that are the academic equivalent of a high school English teacher.
For example, I first introduced this English grammar and punctuation learning system into the curriculum at the predominately African-American Scripps Howard School at Hampton University, one of the best journalism and communications programs (public relations) in the U. S. In just a short time, student grammar test scores increased by 31%.
As a result of our focus on being a writing school, the Scripps Howard School became a rare national example of diversity that was achieved through academic excellence in journalism.  
A Competitive Journalism Program
This fact gradually became self-evident within the field of journalism and was acknowledged, as well. For example, in 2008, The New York Times selected 18 college journalism students from across the country for its widely-recognized and much sought-after summer internship class that year. But unlike any previous year, one of the most prestigious newspapers in the nation picked three students from the same journalism and communications school: the Scripps Howard School of Journalism and Communications at Hampton University.  Even more astonishing is the racial/demographic composition of the almost 100% African-American student universe of the winning Scripps Howard School and a significant diversity breakthrough for African Americans in higher education.
"In any given summer, it hasn't been all that uncommon to have two interns from the same school – for example, this year we'll have two each from Syracuse, Columbia and Harvard – but I don't recall ever having three from the same school," Sheila Rule, a
Times senior editor, told an Internet journalist.
"Congrats to you and everyone at Hampton for placing all the summer interns at The Times," said Don Hecker, Director of The New York Times Student Journalism Institute. "It's quite an accolade. Forget whether it's a record for a HBCU (Historically Black Colleges and Universities), it's probably a record for any school, including the traditional heavyweights like Harvard, Yale and the big schools with long-recognized journalism programs. And particularly impressive because we have one of the smallest internship programs among the big papers."
A CERTIFICATION STATEMENT THAT LIFTS ALL BOATS
Therefore, when someone masters the four modules of the 2019 new version of this English grammar learning system, very similar to a video game, that I successfully employed previously as an academic dean and professor of journalism, you will be awarded a certificate to attract current or future employers and other interested parties who can help you advance career goals and earn a higher income at an enhanced skilled level.
This means that the rules of English grammar are now available to the entire world anywhere a computer or mobile device is available. That's why in the near future, better grades and higher paying jobs will be more available to all socio-economic groups anywhere in the world.
Succinctly, students from 7th grade through college and adult workers are now able to master English grammar in as few as 15 hours and the entire program in 35 hours.
The mastery of English grammar also leads to improved reading comprehension, and it supports the building of a solid foundation in the sciences. The goal of the 2019 version of the English Grammar Learning System is to become your teacher and coach for core training in an expanding digital world where equality of opportunity is paramount.
How Does Our Learning System Work? It is an innovative and engaging web-based solution for teaching English grammar, usage, punctuation, and writing mechanics. The grammar learning system consists of four independent modules that use a building-block approach to present and teach the lesson concepts. In each lesson, basic concepts are applied through practical, interactive exercises that promote authentic learning and genuine understanding.
How it works:  It uses a building-block approach that includes user-friendly video game-like exercises and numerous helpful videos. Student progress is at the individual's own pace and the student can repeat lessons as many times as necessary.  Past results, as you can see, are very impressive.
My personal congratulations are also extended to the four English grammar modules in our learning system that made it all possible.