In 2007, Dr. Carol M. Swain, a professor of Political Science and Law at Vanderbilt University and author of "Debating Immigration," sat down and explored with me the nuances of contemporary immigration and citizenship affecting the U. S. (TBJ #3017 -- Blacks Divided)
Debating Immigration presents 18 original essays, written by some of the world's leading experts and preeminent scholars, that explore the nuances of contemporary immigration and citizenship affecting the United States and Europe.
"We are guilty because we lure them here with the imagery of a safe-haven nation, conjured up by Emma Lazarus' poem, 'The New Colossus.' We stopped being that nation decades ago."
By Dr. Carol Swain, April 26, 2023
Mexico's criminal cartels view unaccompanied migrant children as "the product" and the Biden administration treats them as such. Our current immigration system is a modern-day slave trade.  
We can applaud The New York Times for finally exposing the left to the Biden administration's indifference to the exploitation of migrant children. The paper's report on migrant child labor gives a good start, but it fails to show the whole picture.
The NYT reporter, Hannah Drier, focuses on children, but the exploited includes everyone — men, women, and children — lured into the United States by promises of a better life, only to be trapped in modern-day slavery. Drier wrote at length about White House Cabinet officials, such as Health and Human Services Secretary Xavier Becerra, Domestic Policy Director Susan Rice, and even Vice President Kamala Harris.  
The article said not a word about sex trafficking — about the ruined lives of young girls and women who never make it to honest work in a poultry or furniture factory, as they were promised. Under the cartels and America's careless administration, they are used and abused in the sex trade until they are reduced to nothing.  
Other children and young adults are being forced into the grueling labor of meatpacking, agricultural, and hospitality jobs not mentioned in Drier's article. America's unaccompanied and unchaperoned minors are a bonanza for human traffickers.  
There is no American dream under the Biden administration. There is only victimization and abandonment. I touched on the government's indifference to the commodification of migrant children in the Epoch Times last December. It has only grown worse since then. 
Conscientious citizens should recognize this as a moral failing. Modern-day slavery is just as impermissible as the slavery African-Americans endured. 
Former Project Veritas CEO James O'Keefe revealed the reality of our immigration system in interviews with victims of the modern-day slave trade and whistleblowers. One whistleblower, Tara Lee Rodas, exposed the lack of checks and balances in the immigration process. She revealed that sponsors, who typically are not legal citizens or permanent residents, threaten children, whom they call their "products," with deportation to ensure their servitude.  
"The sponsor can hold up an 'Order of Deportation' to a [migrant] child and say, 'This is your Order of Deportation. If you do not do what I say, when I say, I'm going to call ICE on you myself,'" Rodas said. "We [American citizens] are paying to put children in the hands of criminals." 
These children are not being reunited with their families. We know from numerous reports that unaccompanied minors, like chattel slaves, are crowded into temporary housing upon arrival. We have seen pictures of blankets that look like aluminum foil and masses of bodies.
Health and Human Services is supposed to find suitable homes for the children. In the government's rush to rehome these children, they may be placed with a foreign national sponsor who has already laid claim to several children. At that point, the children — now the cartel "product" — are at the mercy of their sponsors. We know that HHS has lost track of thousands of children. For all HHS knows, the children could be chained up in someone's basement — or worse, dead.   
What went wrong? Truth be told, America dropped the ball decades ago. 
In the minds of millions of migrants, America is a land flowing with riches. They come here as dreamers only to find themselves trapped in a nightmare. We are guilty because we lure them here with the imagery of a safe-haven nation conjured up by Emma Lazarus' poem "The New Colossus." We stopped being that nation decades ago.
Our failure to enforce our immigration policies and implement clear rules and expectations has created a travesty for those unfortunate enough to be trapped in our system. 
It is true that since the 1965 Immigration Reform Act, leftists have most vocally pretended to care about justice and fairness for people born outside the U.S. But it has been under both Democrat and Republican administrations that the federal government's non-enforcement immigration policies have made it easier for people to come here.  
Common-sense measures for immigration reform never seem to advance in Congress under either party because, in hindsight, both have benefitted from the exploitation of humans. 
Perhaps Drier's New York Times article will generate enough pressure for true immigration reform to rise to the top of the list of national priorities. Then again, for two years both parties have known about the modern-day slave trade taking place across our border, and story after story has not inspired any real national action.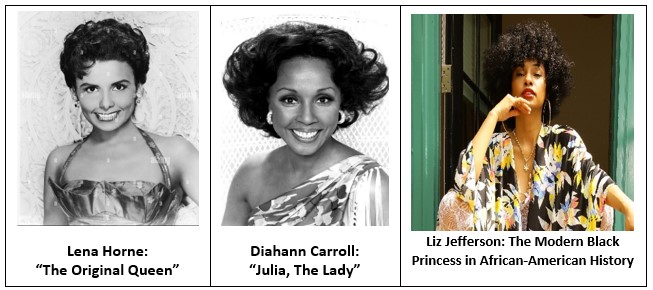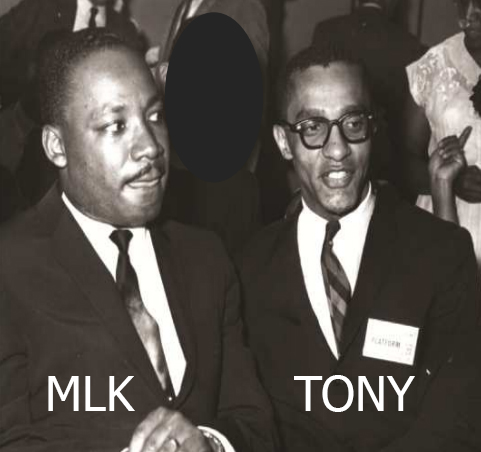 HISTORICALLY, TONY BROWN IS also …
Coordinator of the "Walk To Freedom with Martin Luther King, Jr." in Detroit (1963), according to the July 29, 1963 edition of Business Week magazine, "the largest civil rights march in history."
WINNER of the prestigious Silver Circle Award from the National Academy of Television Arts & Sciences
Dean Emeritus and Professor, Scripps Howard School of Journalism and Communications, Hampton University 
First and Founding Dean and Professor, School of Communications, Howard University
Founder, BLACK COLLEGE DAY, 1980
2015-2016 National Association of Black Journalists Hall of Fame Inductee
Black Emmy Nominee – 1989 Special Recognition Award Winner 
Distinguished Visiting Professor, Honorary Degree – American University, Paris, France 
Distinguished Visiting Professor, Central Washington University, Ellensburg, WA 
Talker's, Radio Trade Magazine: Selected as "One Of The 100 Most Important Radio Talk Show Hosts In America" 
"Tony Brown Chicago," WLS-AM Radio (Chicago) 
"Tony Brown," WLIB-AM Radio (New York) "Tony Brown at Daybreak," WRC-TV (Washington, DC) 
"Tony Brown's Journal"/"Black Journal" (TV series: 1968-2008): "The Most Complete and Thoughtful Record of African-American Opinion." 
U. S. Army 272 field artillery (s-1 Intelligence) battalion and cadre (1953-1955). Neu-Ülm, GERMANY. Honorable discharge.
BLACK HISTORY
HAS THE BLACK LEADERSHIP BETRAYED ITS OWN COMMUNITY?
WE STOOD WITH MARTIN LUTHER KING, JR.
"I was there 50 years ago, in 1963, one of the last two Directors left standing, where 500,000 marchers once stood."  --Tony Brown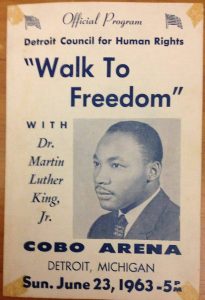 "LARGEST CIVIL RIGHTS MARCH IN HISTORY"
The following week, in its July 29, 1963 edition, Business Week magazine called the Detroit event the "largest civil rights march in history." Subsequently, an official police source, in an affidavit, confirmed an attendance of "no fewer than 250,000 and as many as 500,000 people."  Black people came mostly from throughout the nearby Midwest region.
More official confirmation has been forthcoming since then. Nearly 40 years later, in 2003, The Wall Street Journal would report on page one that the famed King Dream Speech may have had its roots -- not at the March on Washington (which drew 250,000), on August 28, 1963, but elsewhere, perhaps 66 days before in Detroit, Michigan where the attendance may have reached, according to an official police affidavit, 500,000 people.
Although I had no official role in the Washington March, I did witness it as a Detroit correspondent for the national Pittsburgh Courier newspaper chain of African-American local publications throughout the United States, an affiliate of the Black Press, from the steps of the Lincoln Memorial within a few feet of Dr. King and I was included in Life magazine's limited photo coverage of this historic event.
All of this in only 66 days! My head was spinning with excitement and wonderment. It seemed that my Detroit decision to choose activism as a way of life had become my destiny.
2013 – 50th Anniversary "Walk to Freedom March" – Detroit, MI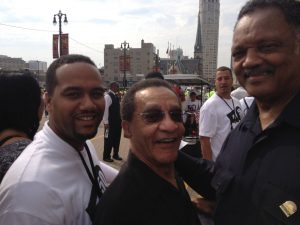 Tony Brown (center) Grand Marshal of the 2nd and final Detroit March on June 22, 2013, drew 200,000, with his grandson Remy Harris (left) and Jesse Jackson (right).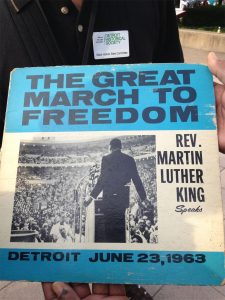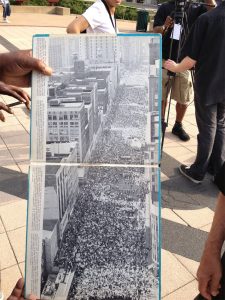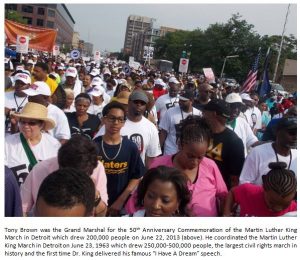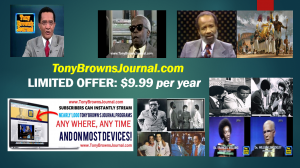 TONY BROWN OFFERS EDUCATORS, STUDENTS, HOMESCHOOLERS AND PARENTS ACCESS TO A NEW VISUAL STREAMING LEARNING TOOL FOR BLACK HISTORY AND CULTURE 
Tony Brown's Journal, "the most complete and thoughtful record of African-American opinion," is in the process of offering one of the most cutting-edge educational tools for streaming to educators, homeschoolers, students and parents. The entire digitally re-mastered TonyBrownsJournal.com collection of nearly 1,000 historical, health and public affairs video and film content that was produced by award-winning journalist Tony Brown on national television for over 40 years (1968-2008) is now being offered in this rare cutting-edge educationally purposeful opportunity for as little as $9.99 per year.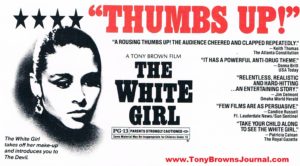 Free streamed copy of "THE WHITE GIRL" movie with each annual subscription is a streamed copy of "The White Girl," a full-length anti-drug feature movie directed by Tony Brown that was released via commercial syndication in movie theaters in 1995 with a PG-13 rating. The opening inaugural debut of "The White Girl" at the Liberty Theatre in Hamilton, Bermuda (Bahamas) broke the house box-office gross record, according to Hollywood Reporter, a trade magazine.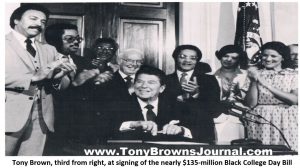 BLACK COLLEGE DAY BILL- White House cabinet members and advocates of equal education look on as President Reagan signs Executive Order 12320, just one year after the first historic Black College Day rally in Washington, DC, that increased the amount of federal funds to these institutions by $9.6 million. From left to right are: Education Secretary Terrell Bell, Tony Brown, Founder and Chief Coordinator of Black College Day, Thelma Duggan, Coordinator of Minority Affairs at the Department of Transportation; and Transportation Secretary Elizabeth Dole.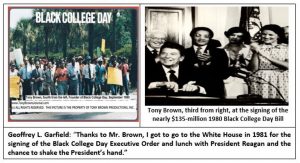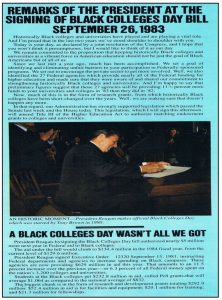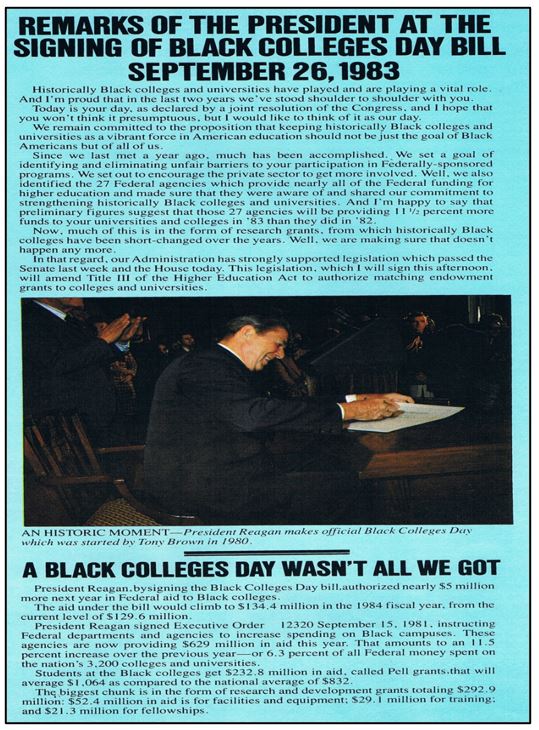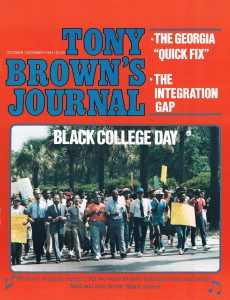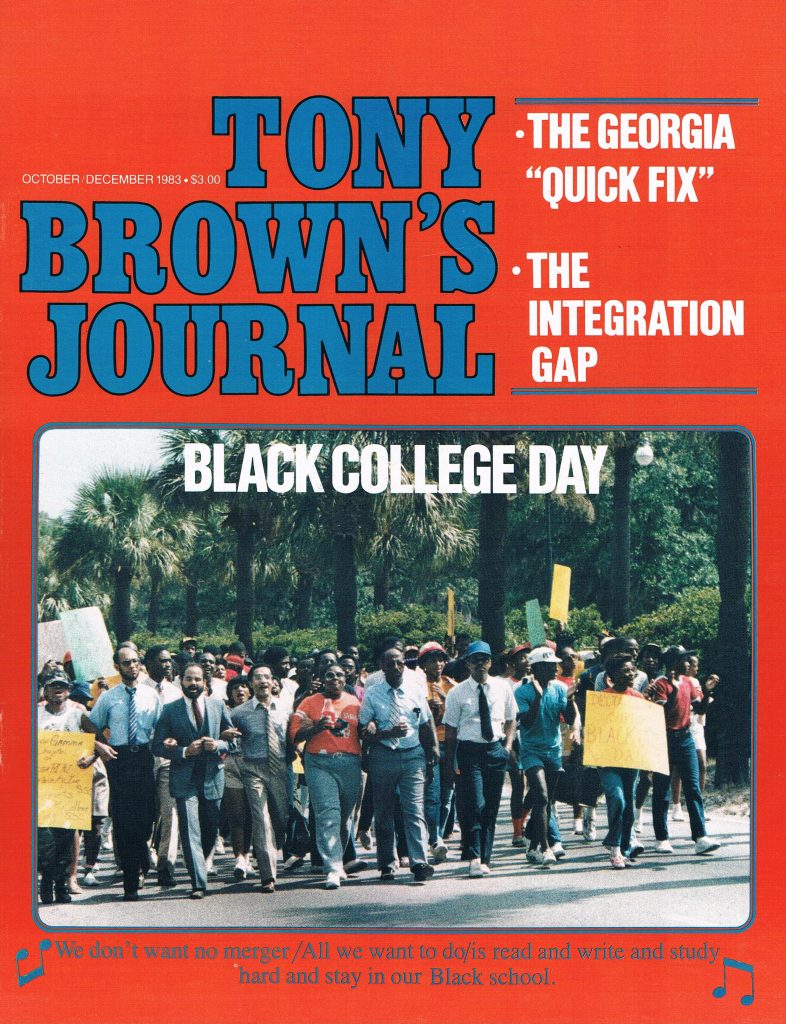 LEADERS OF THE BLACK COLLEGE DAY MARCH IN 1980; THE ULTIMATE UNITY RALLY. Supporters of Black colleges from around the country demonstrated to save Black colleges from new federal and state desegregation plans that threatened their historic role. This 1983 Black College Day massive march and rally in Savannah, Georgia, protested the merger plans of two Black colleges in Georgia.