Without 90% Of The Black Vote, Democrats May Be Toast
by Tony Brown
"With just six weeks to go until Election Day, younger voters are shunning the two major political parties on a scale not seen since Ross Perot's third-party bid for the presidency in 1992, a striking swing in public opinion that is slicing into Hillary Clinton's thin margin for error.
"Though young people are notoriously fickle about showing up at the polls, they are a growing and potentially pivotal bloc of voters. Millennials now outnumber baby boomers as the country's largest generation. And while they may be more predisposed than other groups to vote Democratic, they are not moving toward the party and its nominee as quickly and predictably as they have in past elections," according to New York Times article "Clinton Struggles to Win Back Young Voters From 3rd Parties."
For example, if the Democratic Black vote falls below 80%, the Democrats cannot win the Electoral College vote that selects the President. As of now, the political stage is set for a repeat victory for a divided nation and an economic system that prevents the rise of Black people out of educated ignorance and an economic dependence on the White population. Americans of all racial and ethnic backgrounds are now psychologically amenable to major changes in the political and economic processes, and this fact especially worries Democrats.
Jones highlights the way Trump has been able to woo parts of the Democratic Party over to his side, specifically African-American Democrats. "70% of African Americans have a horrible view of Donald Trump. In order for the Democrats to win the White House they don't have to get 50 percent of the Black vote or 60, or 70, or 80, or 90. Democrats, in order to win, historically need 90 to 92 percent of the Black vote, according to Van Jones, former Obama White House administration green jobs czar. And if only 70 percent of African Americans don't like Donald Trump, that means that 30% are open to Trump's argument. And if he gets half of those that are open to his argument -- he's president. A Public Policy Polling report "showed that Trump is winning over large segments of Blacks, the Democratic Party's most loyal voting bloc."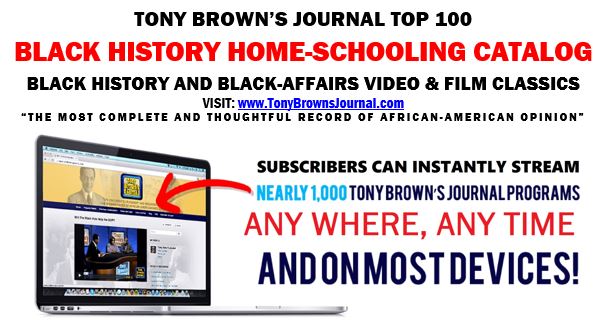 DOWNLOAD BLACK HISTORY HOME-SCHOOLING CATALOG
Home Schooling Black History -- Let TonyBrownsJournal.com do the teaching with 1,000 streamed videos in your home, your office or on your mobile device for a true Black history education. For more information, click here: www.tonybrownsjournal.com/homeschooling.