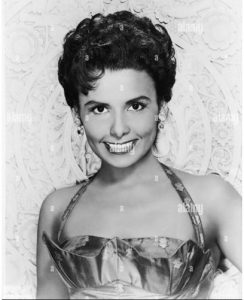 A TRIBUTE TO ALL WOMEN EVERYWHERE!
BLACK ROYALTY:  PART 3 LENA HORNE  An African-American Queen and An American Icon 
Every comment sounded like, not only a tribute of honor to all self-respecting women, especially African-American women who have been selected for an especially large dose of injustice and displaced societal hostility. Please, America, in the near future, do yourself a favor and handle "Her" more gently and with loving care! P.S.: "Did I get it right, Mama?"
Lena Horne, who shifted long-standing racial boundaries in Hollywood in the 1940s and went on to even bigger fame with records and television, was an unforgettable performer and a fiercely determined campaigner for civil rights. Lena Horne was born in Brooklyn, New York, on June 30, 1917, and is known as one of the most popular entertainers of the twentieth century. A woman of great beauty and commanding stage presence, she performed in nightclubs, concert halls, movies, and on radio and television during a period in American history when little Black girls were not allowed to dream those dreams. But the innately and genetically royal Lena Horne was a rare exception because, in the end, the Truth of Reality is "The Fairest In The Land," so to speak.
"I had first married a Black man and I wasn't a big enough woman to help him. I found out how difficult it was for a Black man to live at that time. I didn't have enough consolation in myself to give him." – Lena Horne, on Tony Brown's Journal
In 1943, Lena Horne was established as the highest-paid African-American entertainer in the United States when she was signed to a seven-year contract with the movie studio Metro Goldwyn Mayer (MGM) making her the first African-American woman since 1915 to sign a term contract with a film studio.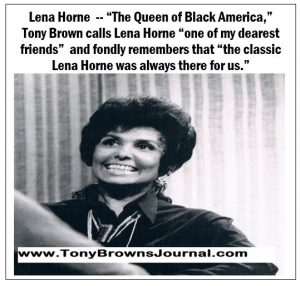 Given the harsh limitations imposed on African Americans in the 1930s and 1940s in Hollywood movies, Horne's film career was impressive, nonetheless. In 1943 Lena Horne landed a lead role in "Cabin in the Sky," which also starred her idol, Ethel Waters; and in 1943 she starred in "Stormy Weather," a box-office financial hit and a theatrical blockbuster, a new breed of human-sentient stock that opened the doors to big-time fame and fortune for the mixed-race of human sentients which were arbitrarily classified as "colored people." Lena refused to take on any role that was disrespectful to her as a self-respecting person.
Despite her great fame and artistic achievements, she continued to experience humiliating racial discrimination and in the late 1940s, she boldly sued a number of restaurants and theaters for race discrimination. During World War II, she used her own money to travel and entertain the Black troops.
Roscoe C. Brown Jr., one of the Tuskegee Airmen and one of the famous African-American fighter pilots and aces who trained for military duty in World War II at Tuskegee Army Airfield in Alabama, remembered seeing her in the 1940s when she performed for the Black airmen. She became "our pin-up girl," he said. But she also "used her celebrity to fight the indignities of the time," wrote Alejean Harmetz in The New York Times. ("Lena Horne, Singer Who Blazed A Trail to Hollywood, Dies at 92," Alejean Harmetz, NYT, p. A1, May 10, 2010)
During the 1960s, Horne was conspicuously involved in the Civil Rights Movement. In fact, she participated in the March on Washington in 1963, performed at rallies in the South and elsewhere, and worked on behalf of the National Council for Negro Women.
In 1981, Horne had her greatest triumph, a Broadway show called "Lena Horne: The Lady and Her Music," which was the talk of show business for fourteen months. It won a special Tony award, and the soundtrack won two Grammy awards.
Looking back at the age of 80, Ms. Horne said: "My identity is very clear to me now. I am a Black woman. I'm free. I no longer have to be a 'credit.' I don't have to be a symbol to anybody; I don't have to be a first to anybody. I don't have to be an imitation of a White woman that Hollywood sort of hoped I'd become. I'm me, and I'm like nobody else."
Lena Horne was an amazing woman. The pride in her ancestral heritage, her refusal to compromise herself – and her innate elegance, grace, and dignity – made her a legendary figure. I became a close personal friend after I arrived in 1970 on the New York scene with celebrity status as the only executive producer of an African-American news and public-affairs TV series that was carried on national television. Our first Black Queen's role helped to improve the status of African Americans in the performing arts and has provided a permanent legacy of the fulfilled person, so-called "race" notwithstanding.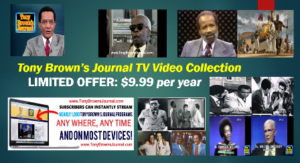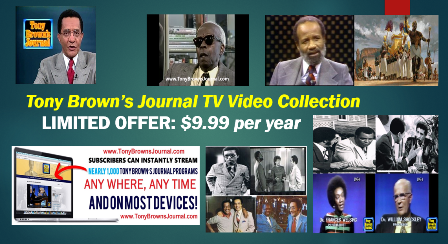 TonyBrownsJournal.Com, in the first 17 days of the Tony Brown's Journal blog and post on "Black Royalty: The Black Princess Series," featuring Freda Payne, Diahann Carroll and Lena Horne received 227,068 new views. During the same period, the post on The Black Princess Series attracted 851 new shares (with an average of 1,500 new viewers per additional website = 1,500 x 851 = 1,276,500 new website viewers); 173 new comments; and 5,039 new likes from potential subscribers.
These latest numbers document a significant growth in the size of the audience of Tony Brown's Journal on Facebook and it amplifies Facebook's own previous citation of Tony Brown's Journal as "one of the well-known public pages with a large following that has been verified as having an authentic identity."
I will never forget the sunny day in 1971 when the Attica riots erupted, after which Lena Horne became one of my best friends in this lifetime. All Praises, Queen. We still love you!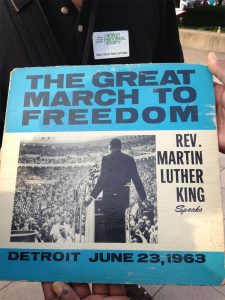 "LARGEST CIVIL RIGHTS MARCH IN HISTORY"
"I was there 50 years ago, in 1963, one of the last two Directors left standing, where 500,000 marchers once stood." --Tony Brown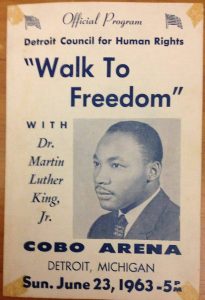 The following week, in its July 29, 1963 edition, Business Week magazine called the Detroit event the "largest civil rights march in history." Subsequently, an official police source, in an affidavit, confirmed an attendance of "no fewer than 250,000 and as many as 500,000 people."  Black people came mostly from throughout the nearby Midwest region.
More official confirmation has been forthcoming since then. Nearly 40 years later, in 2003, The Wall Street Journal would report on page one that the famed King Dream Speech may have had its roots -- not at the March on Washington (which drew 250,000), on August 28, 1963, but elsewhere, perhaps 66 days before in Detroit, Michigan where the attendance may have reached, according to an official police affidavit, 500,000 people.
Although I had no official role in the Washington march, I did witness it as a correspondent for the Detroit Courier newspaper, an affiliate of the Black Press, from the steps of the Lincoln Memorial within a few feet of Dr. King, and I was included in Life magazine's limited photo coverage of the event.
All of this in only 66 days! My head was spinning with excitement and wonderment. It seemed that my Detroit decision to choose activism as a way of life had become my destiny.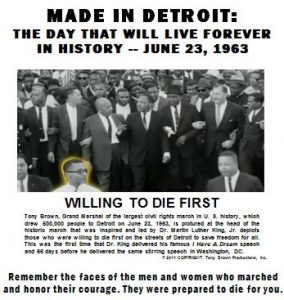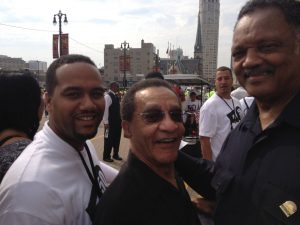 Tony Brown (center) Grand Marshal of the 2nd and final Detroit march on June 22, 2013, that drew 200,000, with his grandson Remy Harris (left) and Jesse Jackson (right).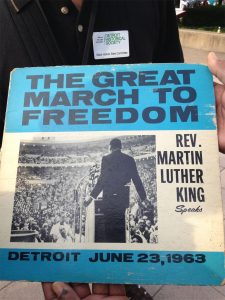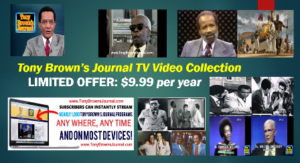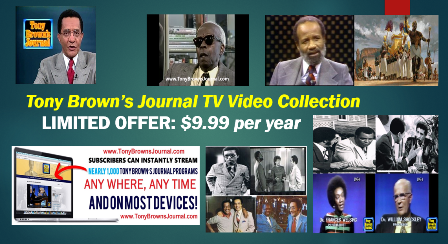 Tony Brown's Journal, "the most complete and thoughtful record of African-American opinion," is in the process of offering one of the most cutting-edge educational tools for streaming to educators, homeschoolers, students and parents.  The entire digitally re-mastered TonyBrownsJournal.com collection of nearly 1,000 historical, health and public affairs video and film content that was produced by award-winning journalist Tony Brown on national television for over 40 years (1968-2008) is now being offered in this rare cutting-edge educationally purposeful opportunity for as little as $9.99 per year. The Tony Brown's Journal advertised annual price for our nearly 1,000 streamed programs is currently $9.99. To encourage the participation of the students, administrators and faculty to benefit at a reduced cost in this rare cutting-edge educationally purposeful opportunity.
I am prepared to offer an exclusive opportunity to access the entire iconic and historic Tony Brown's Journal Video & Film Collection to help advance the knowledge base of African-American history and culture at a dramatically reduced annual price, as low as $5.99 per participant (email for special offer).  This can advance the availability of an additional education tool in your arsenal of both history and technology for the participating students, faculty and administrators.
The entire digitally re-mastered Tony Brown's Journal collection of nearly 1,000 historical and public affairs video and film content that I produced on national television for over 40 years (1968-2008) is now described by archivists as "the most complete and thoughtful record of African-American opinion."
This collection also includes a full-length anti-drug feature movie, "The White Girl," and was released via commercial syndication in movie theaters in 1995 with a PG-13 rating.
For more information on this group offer, email my office (info@TonyBrownsJournal.com). To download or view the Tony Brown's Journal Video Catalog (visit: www.TonyBrownsJournal.com/video-catalog).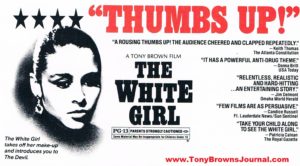 Free streamed copy of "The White Girl" FREE with each annual subscription is a streamed copy of "The White Girl," a full-length anti-drug feature movie directed by Tony Brown that was released via commercial syndication in movie theaters in 1995 with a PG-13 rating. The opening inaugural debut of "The White Girl" at the Liberty Theatre in Hamilton, Bermuda (Bahamas) broke the house box-office gross record, according to Hollywood Reporter, a trade magazine.
With kindest regards and all good wishes, Tony Brown
TONY BROWN RESPONDS TO COMMENTS FROM SOME OF THE THE 100,000 FRIENDS OF TONYBROWNSJOURNAL.COM:
Betty Seelye: As a White girl, I looked up to Lena Horne.
Tony Brown:  Betty Seelve, you are obviously the offspring of an enlightened home, filled with love and goodwill for all, and, foremost, as an acknowledgment found in most foundations of ancient belief systems from the African and Asian continents. I will do a better job of explaining what my research, attained largely from Antiquities Unveiled, has taught me. Congratulations to everyone in your life who helped transplant this everlasting love, as directed by the one and only God of our multiverse.
Geoffrey L. Garfield: Thanks to Mr. Brown, I got to go to the White House in 1981 for the signing of the Black College Day Executive Order and lunch with President Reagan and the chance to shake the President's hand.
J Kavin Ross: It's time for a Tony Brown visit to Tulsa!
Cordelia Reid: Ms. Horne was a gracious lady that had warmth and beauty naturally. She was no phony woman, that alone made her beautiful inside and out. 
Jacqueline Lewis: Beautiful
Mary Richmond: "Lena, Oh, Lena," in my Fred Sanford Voice.
Angel Speakman: She has an amazing smile.
Ronnie Ruffin: Beautiful
Robert Battles: Awesome
Genea Brice: Just beautiful!
Deidra Pierre: Classy, beautiful diva
John Preston: Beauty
Tony Barneman: Loved her
Larry Simmons: Beautiful
Joshua Ross: Miss Lena Horne was a Beautiful Black Queen who looked out for Black People: RIP.
Alicia Starr: Thank you for all you gave to us. May you rest in heavenly peace, Queen. 
Ralph Flanagan: I guarantee you; a good portion of the entertainers that we have today can't put 5 words together and sound this eloquent. Every other phrase: "you know wha I'm saying"; "On God"; "Nah mean"; "On erry thang."
Rouru Golatt: Beauty
James Dougherty: Love this lady!
Brenda Tyler: Beautiful
Otis Carlton Sutton: A phenomenal woman of excellence....I salute the Queen Madam Lena Horne.
Ripshop Sutton: My relative on my mother's side
Pat Evans: Oh, Sandy, that's GREAT!!
Leigh Cargle: A true warrior, she never wavered in her love and respect for Black people
Alex Kovnat: Thank you for reminding us of Lena Horne. She was a beauty! I just did a Google on Dionne Warwick. It's nice to know she's still with us, and still part of the pop music scene.
Virginia Z Vlahakis Wilson: Beautiful lady
Jill Arnold: Virginia Z Vlahakis Wilson, I loved her music.
Ken Scrivner: What a marvelous singer. She did everything with class!
Linda McBride: Such a classy woman and amazing singer!
Wendell Hargro: I always loved her. What a beautiful lady. She was pretty tough.
Jean Kintz: And she was classy, unlike so many today.
Maxine Headspeth: One of the most beautiful Black Women in the world, smart and talented too
Lucille Davis: A TREASURED MEMORY!!!
Shirley Norman: Truly a Black Queen. Forever loved & remembered for your contribution to mankind!
Patricia Valvo: I had the pleasure of seeing her in concert with Tony Bennett many years ago. 2 legends of music 
Bob Campbell: She was a beautiful woman and a fabulous entertainer. She is, and was in her lifetime, an American treasure.
Charlie Overton: I saw her on a PBS program. I believe it was and I was just blown away by her everything. That woman had it all!
Lois Walker: Lena Horne was a awesome entertainer woman of color who opened the door for others of color. B.K.A The Horne. R.I.Heavenly Love 
Dave Brennan: Beautiful.
Delores Deanes: Saw her in Washington DC. A beautiful show
Carol Clarke: This beautiful woman seemed to never age!
Raleigh Wynn: Plenty of talent
George Harden:A fantastic Woman, Entertainer and Civil Rights Advocate
William Paul McKinney: Beautiful
Coakley Pendergrass: Amen, Beautiful Intelligent ICON!!!
Marva Powell: So beautiful and talented 
Alma Milton: Gorgeous lady we met her in Hawaii, such a kind hearted lady
Jim Galvez: Should not have had to struggle in her lifetime so much, wonderful artist.
Alan Edwards: Loved and still love this BEAUTIFUL black woman actress and singer
Maggie Newman: LOVED her music!!
Patty Jones: Great performer.
Sandra Apodaca: Had the privilege of seeing her in person in San Francisco in her later years. She was still beautiful and sang wonderfully.
Maria Duarte- Cordova: Lena Horne was a beautiful actress and a fantastic singer! One of my favorites!
Juliene Kirk: Loved listening to her sing and watch her act.
Ann Puri: Saw her perform in Vegas with Harry Belafonte. She commanded all your attention when she appeared on stage.
Finley Henderson: Great singer and actress
Richard Greenidge: She was great. She was a friend of my mother's. Years ago, she wanted my mother to accompany her on the piano for a concert. Although my mother was a great pianist, she was afraid and turned down her offer. She was very young as well as beautiful at the time.
Dylis Meador: Richard Greenidge
Shawnda Jones: Great legacy jazz singer beautiful leader lady kind heavenly
Prince-Victor Ogunnubi-Adekeyo: GOD BLESS & REST THE SOUL OF LENA HORNE OF BLESSED MEMORIES.
Sarah Smith: Thanks for your comments.
Marina Mannor: God bless you
Bobbie Shosh: She was a beautiful woman, with an amazing voice
Patty Snow: Stunning and a beautiful voice to match.
Loretta Lindsay Van Es: Beautiful & so talented!
Stephanie Collier: Beautiful and talented
Delores Perry: This lady was a beautiful Queen in the Fight for racial equality in America. She was tenacious. I'll never forget when she performed for Black soldiers at Ft. Chaffee, AR. My father was there. (This was the U.S. Army's boot camp during WWII.) Ms. Horne ran past the White soldiers sitting in front and straight to the Black soldiers in back. She sang facing the BLACK soldiers ~ with her back to the White soldiers.
Dennis Taylor: Delores Perry, why does that make her great? All the soldiers were fighting for the same thing.
Delores Perry: Dennis Taylor, the gathering was segregated ~ and ALL the soldiers were fighting for the USA.
Dennis Taylor: Delores Perry, so
Delores Perry: Dennis Taylor, so all the soldiers should have been treated the same way. But times then promoted the practice of segregation.
John Floyd Wetzel III: Fred Sanford's Heartthrob.
Gloria Jimenez: Beautiful
Natalie Craft Elbrow: Beautiful actress and entertainer.
Ida Mae Maxwell: Miss you beautiful black women, rest on
Judy Smith: She was a beautiful woman with a great talent.
Barbara McKinzie: Awesome lady
Bonnie Bridger-Mittelmaier: Style, Grace, Class, Beauty, Smart, Talented. And "Stormy Weather!" 
Virginia Z Vlahakis Wilson: Beautiful lady
Dawn Brochu: One of my favorites
Arry PS: Amazing performer& Beautiful human being who knows the struggle and kept on the road to achieve excellence in her art. Bravo Lena
Bobbie Shosh: She was a beautiful woman, with an amazing voice, and great actress.
Eddie Williams: Beautiful Lady
Betty Hollister: I had the privilege of meeting Lena Horn about 40 years ago. What a lovely lady.
Joyce Bergmark: She was absolutely gorgeous!
Sue Gorman: A beautiful and talented lady
Delinda Bell: Beautiful Lady
Josie Clark: Great singer
Luna Dove: She would come into the office in San Francisco, Calif. back in the mid/late 60s where her husband and I both worked. She was a lovely lady.
James Jackson: In The 70s, Ms. Lena Horne had a makeup commercial I thought was the jazziest and coolest on television in those days!
Bonnie Brower: Beautiful inside and out
Rhonda Jones: Beautiful
Aram Alkhazoff: What she complained about made her wealthy and a star!
Paula Howliet: She was beautiful throughout her entire life and a fantastic talented woman!
Martha Forbes: She did it her way
Sylvia Olivier: Lovely 
Con E. Maslanka: Elegant and so beautiful.
Dana Lynne Ochoa: She was amazing in "The Lady And Her Music."
Barb Sebastian: She was so talented and beautiful. I loved her singing
Gwenneth Shepard-Andrew: Beautiful with an incredible voice.
Pat Woods: Was most beautiful. Her talents were mostly overlooked
Edith Smaw: Beautiful lady
John Hill: She was one beautiful woman
Jonny Davis: Beautiful
Marvin Winn: Beautiful lady and voice!!
Bud Brown: She could really sing
Richard Greenidge: Lena lived around the corner from us later in life. My mother was very young and afraid years earlier to accompany Lena on the piano for concerts at the time, although Lena wanted her more than anyone!
Kathleen Williams: Beautiful lady, great actress, she is truly a great legend.
Sandy Ortiz: Beautiful
Kathleen Williams yeah she's as my Vote 4 Sure
John Hill: One beautiful woman
Jerry Upton: Beautiful lady, R.I.H.
 Helen Hill Hill: What a beauty and gifted female. I caught her in person in Denver many years ago. I was sooooo proud to be able to see her show. It was an everlasting memory
Linda Pharr: I remember her
Said Al-Khalidin: Beautiful
Sandra Person: She was so incredibly beautiful, & I loved her voic
Marilyn Williams: I loved her appearance on The Cosby Show. Cliff was surprised by a Birthday gift of seeing her performance. . Beautiful woman and fabulous singer.
Jay Caniff: Why can't you just say American!
Ronald Jackson: An ageless, remarkable and courageous woman!