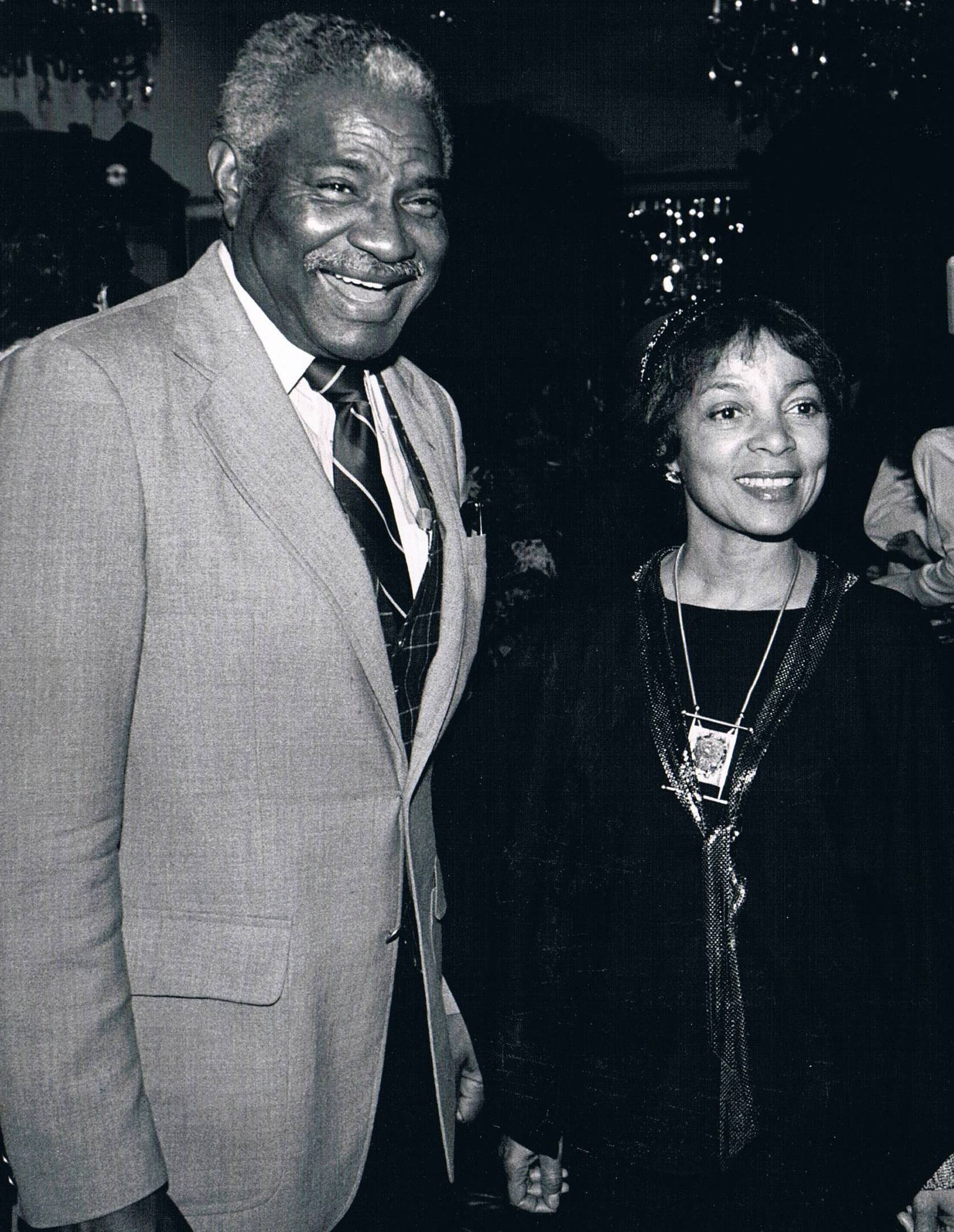 Black Royalty ... The informal king and queen of this artistic wing during much of this inspiring era of self-reliance from a conspicuously talented sociographic and intellectual expatriate colony of diverse descendants of Africa was the brilliant and legendary duo of Ossie Davis (born Raiford Chatman Davis on December 18, 1917, in Cogdell, Ga.) and Ruby Dee (born Ruby Ann Wallace in Cleveland, OH on October 27, 1922).  They led an early pioneering wave of Black Greats on the main stage of the Great White Way called Broadway. It was a smooth and melodic outburst of emotion and talent from every corner of Black America that expressed itself brilliantly through the performing arts.
The U. S. Harlem of Black America, in New York City, was the main attraction for these "striver" aspirants who later included such notables as historians John Henry Clarke, J. A. Rogers and Dr. Chancellor Williams, Academy Award winner Denzel Washington, TV Director Stan Lathan, Producer of "Black Journal" William Greaves, Stage Director Lloyd Richards, singers Lena Horne (my dear friend and staunch supporter) Billie Holiday, Rev. Wyatt Tee Walker (academic musical genius), pioneer songwriter/musician and award-winning Eubie Blake, and scores of other homegrown Black stars from the heavenly galaxy of Alkebulan.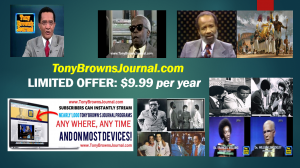 Let TonyBrownsJournal.com do the teaching with 1,000 streamed videos in your home, your office or on your mobile device for a true Black history education.

During the apex of my 40 years on national television, during star-studded days and nights, a host of Black intellectuals and a precocious colony of Black creative and entrepreneurial people from all over the world migrated to what was, at that time, America's Black intellectual and cultural epicenter.  It was a mass of innovative and Alkebulan peoples who had been subordinated by racial discrimination and government-sanctioned apartheid and shut out of White America's mainstream by a White supremacy tradition that nurtured U. S. slavery and discrimination. This unique group that gave birth to the human race developed its own cultural values and iconic figures, each rich in the tradition of the American South and the Caribbean lands, from which most of the African-American population had legally migrated or been sold as slaves and indentured servants of  White Europeans.
Together, Ossie and Ruby, helped pave the road for generations of Black performers. Ossie Davis put it in context, "We knew that every time we got a job and every time we were onstage, America was looking to make judgments about all Black folks on the basis of how you looked, how you sounded, how you carried yourself. So any role you had was a role that was involved in the struggle for Black identification. You couldn't escape it."
Ruby Dee grew up in Harlem and by the mid-1940s, she was already a working actress, having appeared on Broadway and in productions of the American Negro Theater. She had also been married, in 1941, to the singer Frankie Dee Brown. The marriage dissolved, but it gave the beautiful Ms. Dee the name by which she would be known for the rest of her life.
"In 1946," The New York Times wrote, "she joined the cast of a Broadway-bound play called 'Jeb,' about a Black soldier who has lost a leg in World War II and discovers that his sacrifice for his country is of little value in the face of the racism he encounters on his return home. Hired as the understudy for the role of Libby, the title character's loving girlfriend, Ms. Dee not only replaced the original actress in the role before opening night but also fell in love with the star, Ossie Davis. The show lasted for nine performances, the relationship nearly 60 years, until Mr. Davis's death in 2005. They married in 1948."
Ruby Dee's greatest line came, not on the acting stage, but when she told the audience on the night she received a lifetime achievement award in 2005 from the National Civil Rights Museum in Memphis: "You can only appreciate freedom when you find yourself in a position to fight for someone else's freedom and not worry about your own."
The politically non-partisan, culturally-themed movement of the past that carried empowerment messages about Black progress, overcoming racism, organizing stable families, succeeding as entrepreneurs and a strong spiritual life was a dream come true – and is desperately needed today.
Oscar Micheaux financed, produced and directed these themes within the fabric of nearly 400 independently-financed movies between 1910 and 1950. Eubie Blake brilliantly played out these indigenous themes on his piano and with his smash hit on Broadway, "Shuffle Along," a tribute to him. The sinewy Lena Horne melodically performed this range of emotions in "Stormy Weather" and later on, Denzel Washington, rose to become the leading man among all actors in Hollywood and was named "the best film actor of his time."
But it was Ossie Davis and Ruby Dee who gave this critical movement a face and a voice that spoke for all of us. Thank you, my beloved brother and sister.