In the first 14 days, the TonyBrownsJournal Facebook page reached 96,334 people with the blog "Great Black Men of Color" – featuring: Frederick Douglass, Dr. Khalid Al-Mansour, Medgar Evers, J. A. Rogers and Dr. John Henrik Clark.
Of those reached, 40,588 viewed the TBJ film clips of these legendary historical figures from the nearly 1,000 videos in this iconic Black History collection streamed on TonyBrownsJournal.com; some 958 "liked" the reenactments and film documentaries; and 826 websites shared this Tony Brown's Journal presentation with an estimated 900,000 viewers on the Internet.
Tony Brown returns to education arena as consultant and spokesman for soon-to-be-released 2019 video game-based English Grammar Learning System (TonyBrownsJournal.com/EGLS)
Featured on Soul of the South TV Network and  TonyBrownsJournal.com
MON., DEC. 3 – TBJ #1210 -- There Was A Time:  Ralph Cooper, founder of the Original Harlem Amateur Night at the Apollo Theater, was an icon of the Apollo legacy for decades.  This long tradition ended at his death on August 4, 1992.  During his long career, Ralph Cooper was also one of the early pioneers of Black films.  This edition is in tribute to a legend who made and starred in his own movies and helped launch the careers of James Brown, Billie Holiday, Sarah Vaughan, the Jackson Five and others.   In this rebroadcast, Ralph Cooper tells his story of his early years before a live studio audience in his hometown of New York City.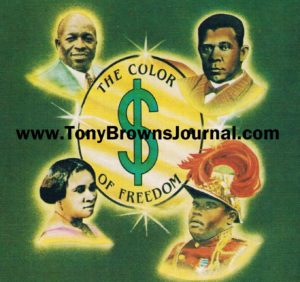 THE COLOR OF FREEDOM ... Throughout the history of Black America, the focus of self-help through economic development has peeked and declined. Presently, it is on life support, as a result of a strong focus on electoral politics and subsequently its transformation to a government subsidy or entitlement. But it was not always that way. The leaders of earlier Black self-empowerment programs explain in this four-part series why economic growth linked to progress in education and workplace development is the key to achieving the social and economic goals of any aspiring group.
TUES., DEC. 4 – TBJ #904 – Ethnic Nationalism – Part 1: No one else is going to do it for you. Why did other cultural groups make it across the finish line of economic sufficiency and self-empowerment and Blacks did not? This question is discussed and answered by various thought leaders, such as Rev. Leon Sullivan, Percy Sutton, Dr. Naim Akbar, just to name a few.
WED., DEC. 5 – TBJ #905 – The Gospel of Wealth -- Part 2: This segment discusses the philosophies of great Black economic thinkers: Booker T. Washington, Frederick Douglass, W. E. B DuBois, Marcus Garvey and Father Divine.
THURS., DEC. 6 – TBJ #906 – Economic Racism – Part 3: African Americans were the only group physically and psychologically enslaved in America. And that fact created not only a unique American experience but a unique and often unequal socio-economic outcome as well. What were the economic ramifications of slavery? And how did the African-American experience differ from other immigrant groups that came to America. What is the basis of racism in America? Is it prejudice or a profit-motive -- or both? How did racism shape the economic development of Black America? These and many other questions are discussed on this program.
FRI., DEC. 7 – TBJ #907 – From The Streets to the Suites – Part 4: At the close of the Civil War, the annual income of Black America was $20 million. By 1984, a little more than 100 years later, that figure had grown to $200 billion. But in spite of the steady growth of Black earning power, the Black family income is well below the national average and the Black community is still suffering from chronic and socio-economic instability.  Black America's inability to recycle dollars in its own community as efficiently as other ethnic groups who perform this economic ritual anywhere from 5 to 12 times has been given as the reason for the Black community's economic inefficiency. Blacks recycle their wealth with one another less than once.  Why haven't Blacks been able to take advantage of their own tremendous earned wealth? Have African Americans been more concerned with integration, political or social acceptance than with economic independence? Has their crumbling status in society forced a new thrust toward economic development or more government dependency? These questions beg for answers that may lie in past events.