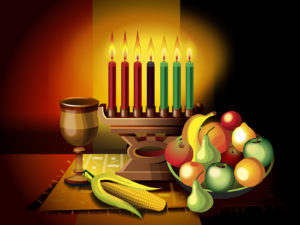 In 2002, I interviewed Dr. Maulana Karenga, professor and chair of Africana Studies at California State University, Long Beach (CLICK to view TBJ Show #2519 -- THE EVOLUTION OF BLACK STUDIES) and he and I discussed the African-American holiday of Kwanzaa that he founded.
Kwanzaa is not a religious holiday, nor is it meant to replace Christmas. At this time of great social change for African Americans, Karenga sought to design a celebration that would honor the values of ancient African cultures and inspire African Americans who were working for progress.
As the creator of Kwanzaa, Dr. Maulana Karenga has had a profound impact on the African-American culture as well as the evolution of Black Studies.  He is a celebrated author, Ph. D, founder of several Black nationalist organizations and a key figure in the shaping of Black thought.  Who better than to ask the question: What is the direction of this evolution?
Let TonyBrownsJournal.com do the teaching with 1,000 streamed videos in your home, your office or on your mobile device for a true Black history education. For more information, click here: www.TonyBrownsJournal.com/homeschooling.
Kwanzaa is based on the year-end harvest festivals that have taken place throughout Africa for thousands of years. The name comes from the Swahili phrase "matunda ya kwanza," which means "first fruits of the harvest." Karenga chose a phrase from Swahili because the language is used by various peoples throughout Africa.
Dr. Karenga says that Kwanzaa brings a cultural message which speaks to the best of what it means to be African and human in the fullest sense. Given the profound significance Kwanzaa has for many African Americans and indeed, for some in the world. He discusses Kwanzaa's origins, concepts, values, symbols and practice.  He also explains the seven principles of Kwanzaa: Umoja: Unity. To strive for and maintain unity in the family, community, nation, and race. Kujichagulia: Self-Determination. Ujima: Collective Work and Responsibility. Ujamaa: Cooperative Economics. Nia: Purpose. Kuumba: Creativity. Imani: Faith.
Let TonyBrownsJournal.com do the teaching with 1,000 streamed videos in your home, your office or on your mobile device for a true Black history education. For more information, click here: www.TonyBrownsJournal.com/homeschooling