$9.99 -- SPECTACULAR LIMITED OFFER. Tony Brown OFFERS Educators, Teachers, Students,  HomeSchoolers AND Parents access to a NEW Visual Streaming Learning Tool for Black History and Culture.
Tony Brown's Journal, "the most complete and thoughtful record of African-American opinion," is in the process of offering one of the most cutting-edge educational tools for streaming to educators, teachers, homeschoolers, students and parents.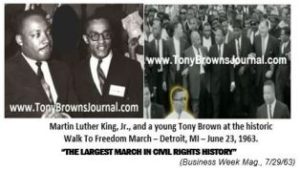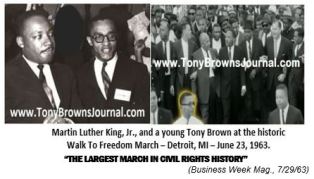 The entire digitally re-mastered Tony Brown's Journal collection of nearly 1,000 historical and public affairs video and film content that was produced by award-winning journalist Tony Brown on national television for over 40 years (1968-2008) is now being offered in this rare cutting-edge educationally purposeful opportunity for as little as $9.99 per year.
Access to TonyBrownsJournal.com will allow students, educators, homeschoolers and parents to stream nearly 1,000 entertaining Black history and culture video lessons 24 hours a day, seven days a week. These streamed video and film documentaries, interviews and cinema lessons are vital to the development of every child of every part of the human family, which descended from the ancient land known in ancient times as Alkebulan, the Mother of Civilization, which is now called Africa with an indigenous Black population.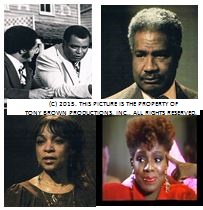 The Tony Brown's Journal current advertised annual rate for these 1,000 exciting streamed programs is only $40, but to encourage the participation of educators, homeschoolers, students, faculty, administrators and parents nationwide in this rare cutting-edge opportunity, an exclusive deeper volume discounted offer is available. For more information on the exclusive, deeper volume, discounted rate, email info@TonyBrownsJournal.com.
This exclusive offer will grant access to the entire iconic and historic Tony Brown's Journal Video & Film Collection to help advance the knowledge base of African-American history and culture at a dramatically reduced annual price. This exclusive opportunity can advance the availability of an additional education tool in the learning arsenal of both history and technology in order to elevate the baseline income of all working families.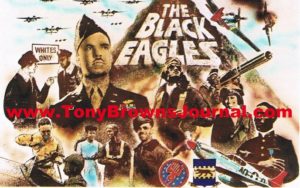 This knowledge-fund can also be streamed directly to your college, university or homeschool.  Here is just a sample of programs from the video treasure trove of Tony Brown's Journal collection, among others, that you will have access to: "America's Black Eagles: 'The Tuskegee Airmen,'" (#605-608) is the critically-acclaimed action-filled 90-minute theatrical documentary that tells the story of "How The Tuskegee Airmen Shot Jim Crow Out of the Skies;" "The Destruction of Black Civilization: Why did it happen?" (#803): Dr. Chancellor Williams a widely-acclaimed historian, explains his soundly-researched theory as to why Africans were so easily toppled from power.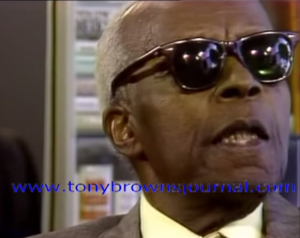 Other exceptional programs include: "A Rap with Colin L. Powell" (#1918) is a discussion with Gen. Colin Powell and whether Americans would elect a Black President;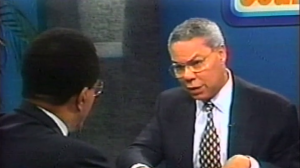 and "Has America Had 5 Black Presidents?" (#111) examines an investigation by historians of five U. S. presidents (before Barack Obama) who were alleged to have Black ancestry, in J. A. Rogers' book "The Five Negro Presidents;"

and "Slavery's Biggest Secret" (#2902) and "Southern Slavery, Northern Lie" (#2903), this two-part series examines "How The North Promoted, Prolonged, and Profited from Slavery."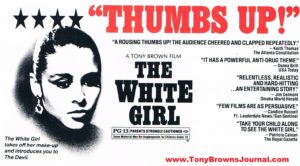 This exclusive offer will also include access to a full-length anti-drug feature movie, "The White Girl," that was written and directed by Tony Brown. It and was released via commercial syndication in movie theaters in 1995 with a PG-13 rating. The opening of "The White Girl" at the Liberty Theatre in Hamilton, Bermuda (Bahamas) broke the house box-office gross record, according to Hollywood Reporter, a trade magazine.
In addition to this rare video and film collection offer of iconic programs, a personal visit by Tony Brown, commentator and executive producer of the series, Tony Brown's Journal, the longest-running series on national PBS-TV, the nation's oldest and leading African-American TV series and the winner of the prestigious National Academy of Recording Arts & Sciences Silver Circle Award, can be arranged to assist enrollees in understanding the historic value of this historic collection.