My first gift to friends of TonyBrownsJournal.com and my Facebook Page is an invitation to watch FREE brief video clips from the Tony Brown's Journal Video & Film collection of the nearly 1,000 historic and iconic titles that are streamed 24/7.  As a university dean emeritus of a journalism school, I consider this historic collection to be the equivalent of an academic Ph. D. degree in Black History and Black Affairs. You can subscribe to the Tony Brown's Journal Video and Film collection that has been described by one archivist as "the most complete and thoughtful record of African-American opinion," in existence. Those award-winning shows that are available for this holiday occasion include, but are not limited to, a wide variety of personalities and issues, such as: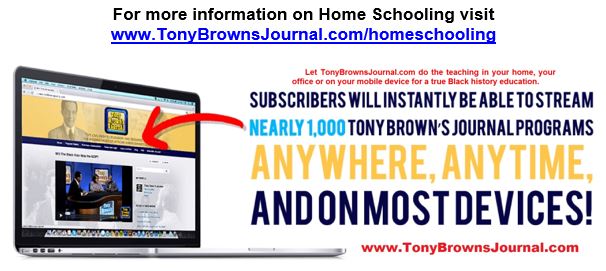 Has The Black Leadership Betrayed Its Community?" Who should take responsibility for the condition of African-Americans? Khalid Al-Mansour, author of Betrayal By Any Other Name, accuses yesterday's and today's Black leadership.  Dr. Al-Mansour says there is a historic pattern "to trace the extent to which our traditional leaders have participated in the process of the destruction of the Black masses."
"How Much Do Blacks Pay For Being Black?" No matter how hard Blacks work or how well educated they become, they cannot close the well-being gap with Whites unless they significantly improve their accumulated investments.
"Was Ron Brown Murdered?" The corpse of former Commerce Secretary Ron Brown seemed to have a bullet hole in the top of the head. The NAACP voiced concern over the statements already made by military doctors that Ron Brown may have been shot.




The Roots of Music" and "The Music Tree" with Dr. Wyatt T. Walker, aide to Dr. Martin Luther King and university scholar. Dr. Walker musically demonstrates, with a 100-member choir, how Black Americans wrote their true history in musical notes and explains how Black music made American music.
"Why Is Cancer Killing So Many Blacks?" A discussion of the menacing death toll that cancer has among Blacks and what can be done about it
"Slavery's Biggest Secret" with journalist Anne Farrow, co-author of "Complicity: How the North Promoted, Prolonged, and Profited from Slavery," exposes the role of the North in the growth of slavery and institutionalized racism (slavery) in America
"The Tuskegee Airmen," an action-filled 90-minute theatrical documentary by Tony Brown Productions, Inc., that tells the story of "How The Tuskegee Airmen Shot Jim Crow Out of the Skies"
"The Destruction of Black Civilization" Why did it happen? Dr. Chancellor Williams, widely-acclaimed historian, explains his soundly-researched theory as to why Africans were so easily toppled
"Has America Had 5 Black Presidents?" An investigation by historians of five U. S. presidents who were alleged to have Black ancestry, in J. A. Rogers' book "The Five Negro Presidents" "Racial Superiority" A heated debate between Black psychiatrist Dr. Frances Welsing (who believes Whites are genetically inferior) and Nobel Prize winner Dr. William Shockley (who believes
These are just a few clips from video treasures of the 40-year Tony Brown's Journal collection that has been described by one archivist as "the most complete and thoughtful record of African-American opinion" in existence. This knowledge-fund can be streamed to you 24/7 anywhere in the world an Internet connection is available – all you have to do is subscribe (www.TonyBrownsJournal.com/subscribe).
My second gift to you is a FREE e-download of my Tony Brown's Journal Video and Film Catalog, which contains a synopsis of the entire historic collection. This educational and historic collection will enable you to defend yourself with knowledge and facts – not senseless violence – and lead humanity toward the Light. This is another opportunity to "Rise Up, You Mighty People; Accomplish What You Will."
My third gift to you is an opportunity to Earn Extra Income And Become An Affiliate. Empower yourself as a TonyBrownsJournal Affiliate. Earn Extra Income. Become Self-Sufficient. Click www.TonyBrownsJournal.com/selfempowerment. It's your time! JOIN!