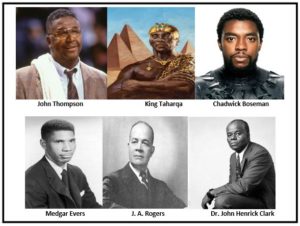 GREAT BLACK MEN OF COLOR I submit my latest group of Black men of color during a period of great upheaval and unrest when so many men (or women) seam less able to inspire the rest of us with their deeds.
Chadwick Boseman, who played Black icons Jackie Robinson and James Brown before #BlackPanther, died of cancer at the age of 43, Friday, August 28, 2020.
"Long Live the King;' the appropriate tagline on the poster for 2018's "Black Panther," captures this moment in history The significance of Chadwick  Boseman, who died on Friday at 43 after a four-year battle with colon cancer, to the African American and Black community is immeasurable. When representing inspirational icons such as Jackie Robinson in "42," James Brown in "Get on Up:' or Thurgood Marshall in "Marshall," the depth of respect is to be expected.
However, two years ago, Boseman asserted himself as a beacon of hope and legacy for current and future generations, when starred in Marvel Studios' Black superhero film "Black Panther," wrote Clayton Davis in Variety. #WankadaForever
FEATURED THIS WEEK ON TonyBrownsJournal.com
From the 1970s until, John Thompson resigned as coach of Georgetown's basketball team to victory and glory, John Thompson was a giant on and off the court.
TBJ #407 – THE SPORTS PLANTATION: A 1981 look at why some college athletes don't graduate; and why so many Black athletes never graduate from White colleges. Guest: Coach John Thompson.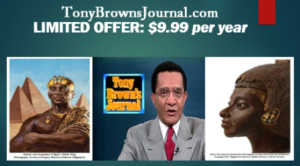 TBJ #323 -- GREAT BLACK MEN OF COLOR:  J.A. Rogers spent the majority of his lifetime pioneering the field of Black studies with his exhaustive research on the major names in Black history whose contributions or even very existence have been glossed over. Dr. John Henrik Clark discusses Rogers' book "Great Black Men of Color" and other important and historical work by Rogers.
TBJ #622 – WHO WAS MEDGAR EVERS?: In the early 1950s times were hard for many Black Americans in the old South. Rigid segregation was the rule of the day and African Americans found themselves on the periphery of American life. But even before the birth of the modern civil rights movement, one Black man declared non-violent warfare on the old Jim Crow system. However, Medgar Evers became one of the many casualties of the civil rights struggle.
TBJ # 111 – Has America Had Five Black Presidents?: An investigation of five U. S. presidents who were alleged to have Black ancestry, in J. A. Rogers' book "The Five Negro Presidents."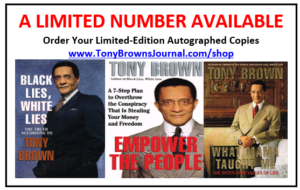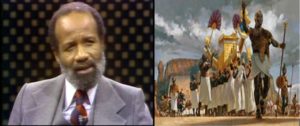 TBJ #202 HIS-STORY: BLACK HISTORY'S LITTLE-KNOWN FACTS: A discussion led by Black historian-writer Lerone Bennett of little-known facts about the history made by Blacks- generally left out of American textbooks-and an examination of historian J.A. Rogers' research on the subject of race and its impact on human relations.