TBJ #631 – "Mrs. Norman, We Love You":  Garnet High School in Charleston, West Virginia was Tony Brown's high school. It was one of the most academically rigorous high schools in the nation and, as a result, in 1951, his freshman entrance exam to Wayne State University in Detroit, Michigan was waived essentially because of Garnet's outstanding record of academic and faculty standards in scholastic achievements. And especially Garnet's first-class scores on official standardized national test scores.
Brown's youthful leadership qualities as "the most all-around student of his graduating class" were documented when he was elected president of his class and re-elected each successive year through the 12th grade. The fact that Garnet was racially segregated because of state law, ironically, resulted in an all-Black faculty that possessed advanced college degrees from a variety of prestigious universities, including Dr. Maude Wanzer Layne, who earned a B. A. and an M. A. from the University of Chicago, a Ph. D., in Music from New York University and from The Sorbonne in Paris, France and many of the most distinguished Black Colleges and White Universities in the U. S.
Dr. Layne also accepted Tony Brown as a student, for private music lessons when he was a fourth grader at Washington Elementary School in Charleston, West Virginia. Subsequently, after his initial training as a drummer, he was recruited as a member of the famous Garnet High School Traveling Band that was under Dr. Layne's direction. Ironically, he lived in the poorest Black slum area of Charleston, which was exclusively inhabited by "Colored People" who were ineligible, because of their low poverty standards, for admission to the well-kept public housing project for Colored People.
Fortunately, Brown's "Mama," Elizabeth Sanford, and her daughter, Mabel Holmes, informally "took him in" (adopted) this unwanted infant at birth. Only forces beyond human understanding can explain the subsequent, positive outcome of this formative beginning, Brown believes. As fate would have it, while only an eighth grader, he was invited by the Governor of West Virginia to the State's Capitol to be honored as a Knight of West Virginia History.
On this edition of Tony Brown's Journal, his high school English teacher, Mrs. Ruth S. Norman, who subsequently emerged as a very prominent faculty leader after legal desegregation was mandated by the United States Supreme Court in 1954, became one of the most lauded educators at the previously all-White Stonewall Jackson High School. The all-Black Garnet's standards of academic excellence and character building are profiled.
Garnet High School was named after Henry Highland Garnett, a former African slave from the militant Mandingo tribe in Africa and later Jamaica during colonial America's racially segregated era. Members of the Mandingo tribe were intentionally excluded from any slave list of selected African slaves because they were considered too rebellious and militant to be physically and psychologically subdued to accommodate America's brutal slavery demands in Britain's former American colony in Colonial America.
I was born Black and not into the middle class, but I was never taught that I was poor; I never lived with my father, but I was never taught that that fact made me any less of a man. I went to all-Black schools in a segregated system, but I never learned that we were inferior because we were together, instead, we were taught to be proud of our heritage and motivated to learn so we could succeed in life. My beautiful Black teachers were the gods of my learning universe, not a blind hatred of all mis-educated human sentients of all nations who fell victim to the psychotic state of mental aptitude.
Eventually, I graduated from the famous all-Black Garnet High School in Charleston, West Virginia. My education at this accredited place of reasoning and logic placed me near the top when I later applied for admission went to a White college and graduate school in the North, Wayne State University in Detroit.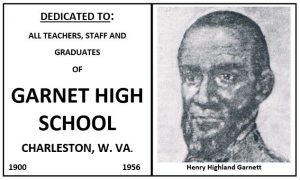 Having been initially trained into a culture of earned status that can only be achieved by character traits that are imbedded in cultures that stress over-achievement and honor in its offspring, I was flattered by what I perceived as a respectful acknowledgement of my African ancestry.
I was prepared by so-called Black people in an indigenous Black environment that stressed respect for other people, races and cultures. But you can only respect others when you respect yourself and my Black teachers and Mama, Elizabeth Sanford who adopted me at the time of my birth, first gifted me with that philosophical wisdom.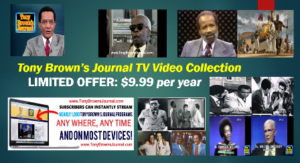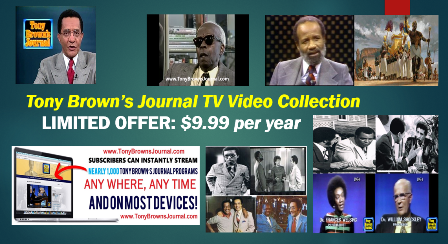 Racism does not expect quality, competence or performance from Blacks. The White supremacy philosophy, also still shared by some Blacks, is born out of an ignorance of the history of Black Americans. My greatest hope is that the school systems would take a page out of Black history and go back to expecting excellence from both Black and White students.
The self-empowerment African-American history struggle replaced segregation with desegregation and eventually led to a more equal education opportunity for all concerned has taught the following lessons: (A) racism and segregation can take place in a White setting, (B) desegregation can take place in Black neighborhood schools and (C) White people are on average no smarter or gifted than African-Americans.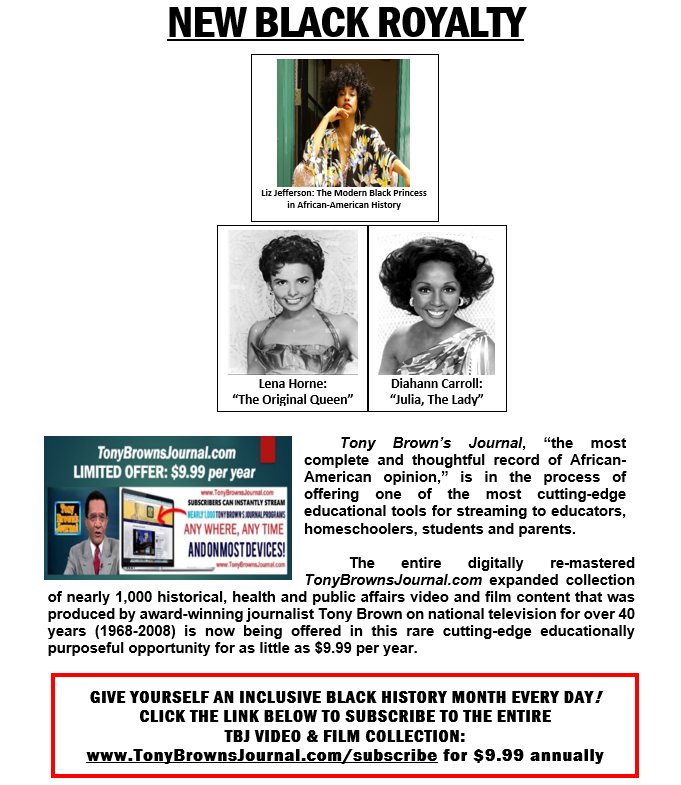 FEATURED THIS WEEK ON TonyBrownsJournal.com TBJ #631 -- Mrs. Norman, We Love You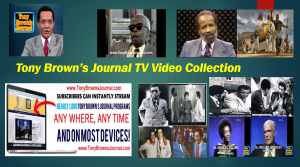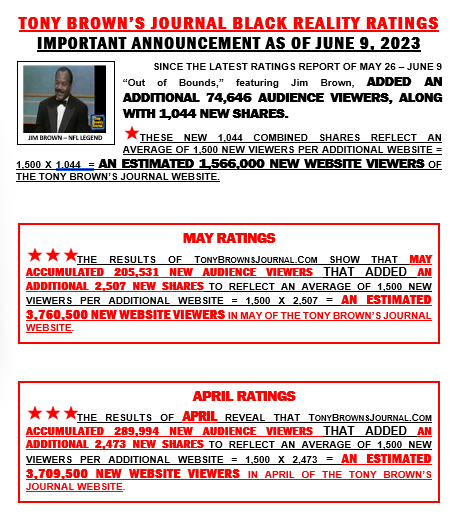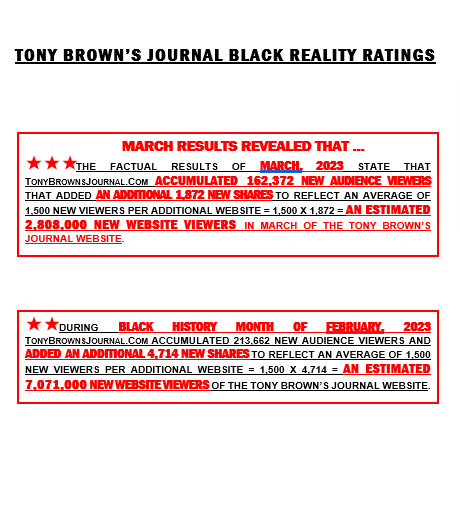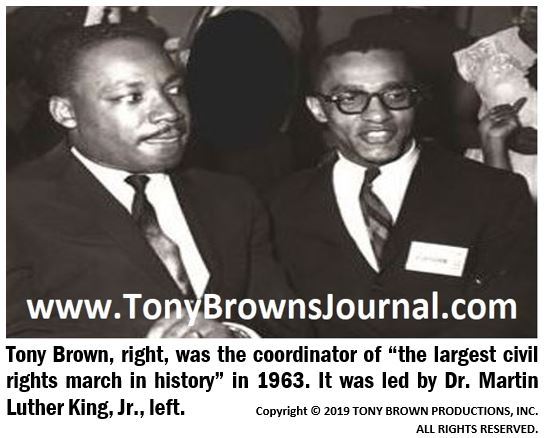 HISTORICALLY, TONY BROWN IS also …
Coordinator of the "Walk To Freedom with Martin Luther King, Jr." in Detroit (1963), according to the July 29, 1963 edition of Business Week magazine, "the largest civil rights march in history."
WINNER of the prestigious Silver Circle Award from the National Academy of Television Arts & Sciences
Dean Emeritus and Professor, Scripps Howard School of Journalism and Communications, Hampton University 
First and Founding Dean and Professor, School of Communications, Howard University
Founder, BLACK COLLEGE DAY, 1980
2015-2016 National Association of Black Journalists Hall of Fame Inductee
Black Emmy Nominee – 1989 Special Recognition Award Winner 
Distinguished Visiting Professor, Honorary Degree – American University, Paris, France 
Distinguished Visiting Professor, Central Washington University, Ellensburg, WA 
Talker's, Radio Trade Magazine: Selected as "One Of The 100 Most Important Radio Talk Show Hosts In America" 
"Tony Brown Chicago," WLS-AM Radio (Chicago) 
"Tony Brown," WLIB-AM Radio (New York) "Tony Brown at Daybreak," WRC-TV (Washington, DC) 
"Tony Brown's Journal"/"Black Journal" (TV series: 1968-2008): "The Most Complete and Thoughtful Record of African-American Opinion." 
U. S. Army 272 field artillery (s-1 Intelligence) battalion and cadre (1953-1955). Neu-Ülm, GERMANY. Honorable discharge.
BLACK HISTORY
HAS THE BLACK LEADERSHIP BETRAYED ITS OWN COMMUNITY?
WE STOOD WITH MARTIN LUTHER KING, JR.
"I was there 50 years ago, in 1963, one of the last two Directors left standing, where 500,000 marchers once stood."  --Tony Brown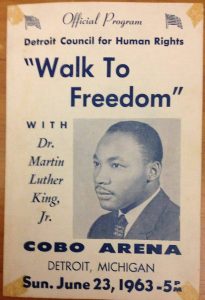 "LARGEST CIVIL RIGHTS MARCH IN HISTORY"
The following week, in its July 29, 1963 edition, Business Week magazine called the Detroit event the "largest civil rights march in history." Subsequently, an official police source, in an affidavit, confirmed an attendance of "no fewer than 250,000 and as many as 500,000 people."  Black people came mostly from throughout the nearby Midwest region.
More official confirmation has been forthcoming since then. Nearly 40 years later, in 2003, The Wall Street Journal would report on page one that the famed King Dream Speech may have had its roots -- not at the March on Washington (which drew 250,000), on August 28, 1963, but elsewhere, perhaps 66 days before in Detroit, Michigan where the attendance may have reached, according to an official police affidavit, 500,000 people.
Although I had no official role in the Washington March, I did witness it as a Detroit correspondent for the national Pittsburgh Courier newspaper chain of African-American local publications throughout the United States, an affiliate of the Black Press, from the steps of the Lincoln Memorial within a few feet of Dr. King and I was included in Life magazine's limited photo coverage of this historic event.
All of this in only 66 days! My head was spinning with excitement and wonderment. It seemed that my Detroit decision to choose activism as a way of life had become my destiny.
2013 – 50th Anniversary "Walk to Freedom March" – Detroit, MI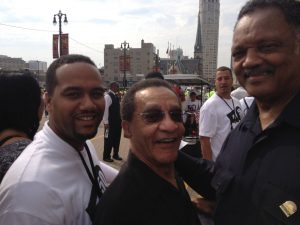 Tony Brown (center) Grand Marshal of the 2nd and final Detroit March on June 22, 2013, drew 200,000, with his grandson Remy Harris (left) and Jesse Jackson (right).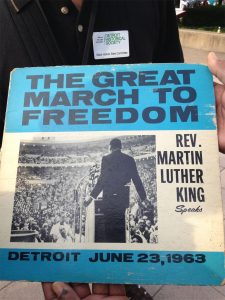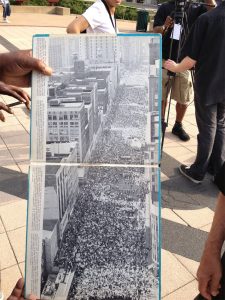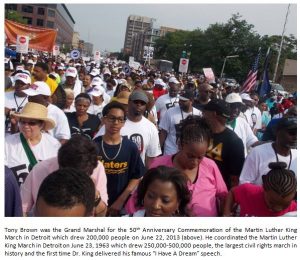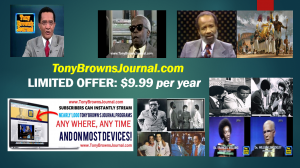 TONY BROWN OFFERS EDUCATORS, STUDENTS, HOMESCHOOLERS AND PARENTS ACCESS TO A NEW VISUAL STREAMING LEARNING TOOL FOR BLACK HISTORY AND CULTURE 
Tony Brown's Journal, "the most complete and thoughtful record of African-American opinion," is in the process of offering one of the most cutting-edge educational tools for streaming to educators, homeschoolers, students and parents. The entire digitally re-mastered TonyBrownsJournal.com collection of nearly 1,000 historical, health and public affairs video and film content that was produced by award-winning journalist Tony Brown on national television for over 40 years (1968-2008) is now being offered in this rare cutting-edge educationally purposeful opportunity for as little as $9.99 per year.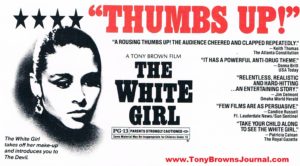 Free streamed copy of "THE WHITE GIRL" movie with each annual subscription is a streamed copy of "The White Girl," a full-length anti-drug feature movie directed by Tony Brown that was released via commercial syndication in movie theaters in 1995 with a PG-13 rating. The opening inaugural debut of "The White Girl" at the Liberty Theatre in Hamilton, Bermuda (Bahamas) broke the house box-office gross record, according to Hollywood Reporter, a trade magazine.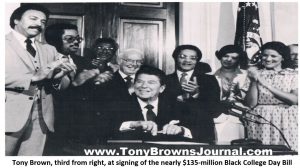 BLACK COLLEGE DAY BILL- White House cabinet members and advocates of equal education look on as President Reagan signs Executive Order 12320, just one year after the first historic Black College Day rally in Washington, DC, that increased the amount of federal funds to these institutions by $9.6 million. From left to right are: Education Secretary Terrell Bell, Tony Brown, Founder and Chief Coordinator of Black College Day, Thelma Duggan, Coordinator of Minority Affairs at the Department of Transportation; and Transportation Secretary Elizabeth Dole.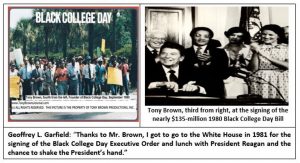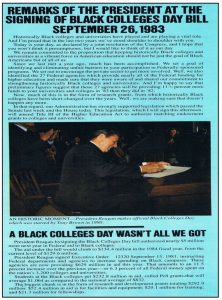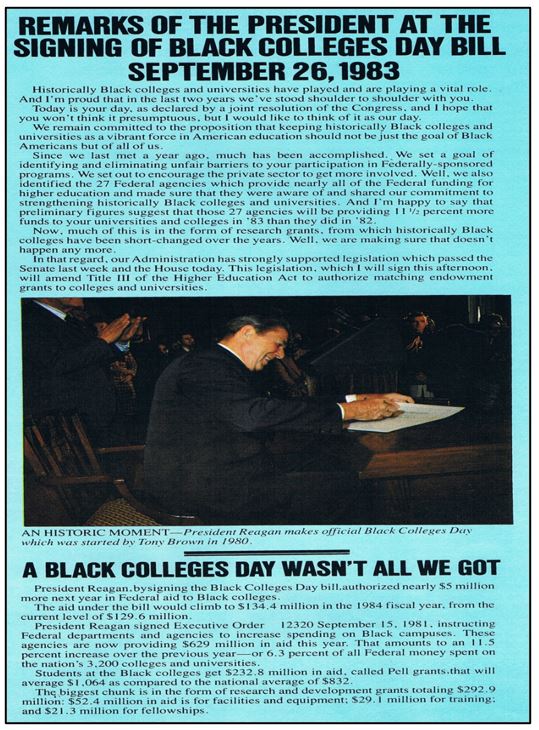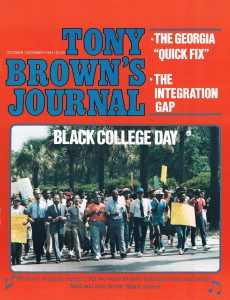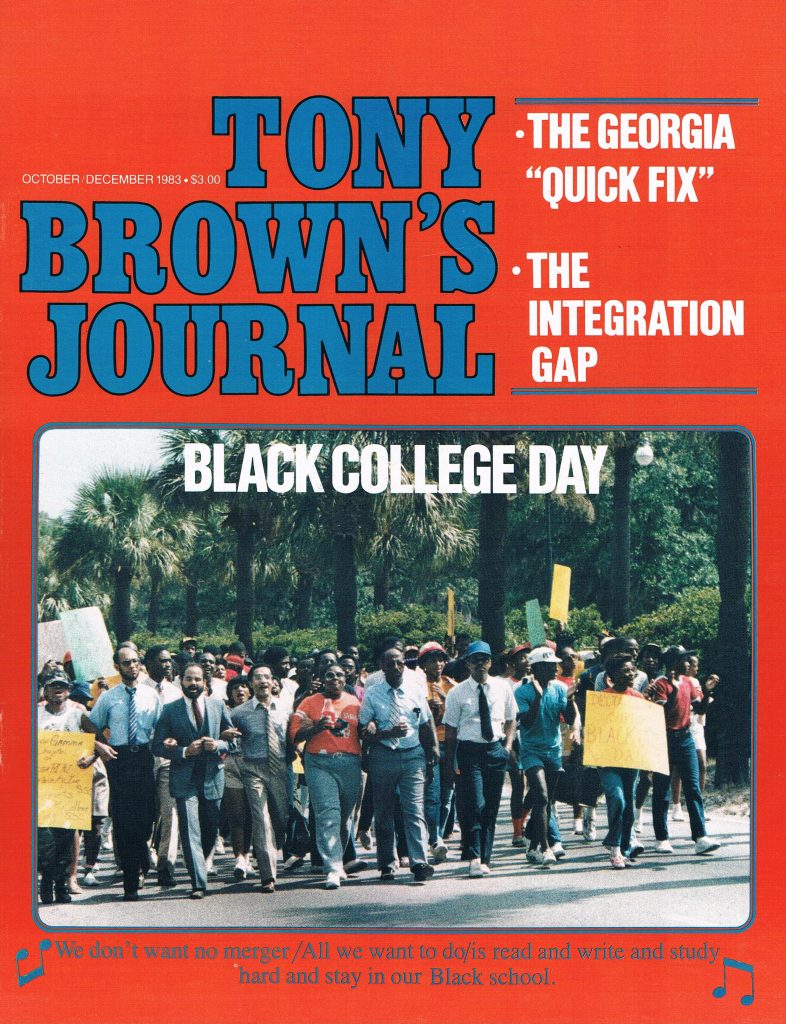 LEADERS OF THE BLACK COLLEGE DAY MARCH IN 1980; THE ULTIMATE UNITY RALLY. Supporters of Black colleges from around the country demonstrated to save Black colleges from new federal and state desegregation plans that threatened their historic role. This 1983 Black College Day massive march and rally in Savannah, Georgia, protested the merger plans of two Black colleges in Georgia.