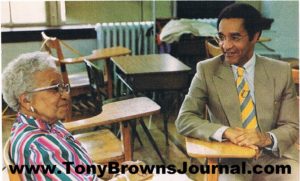 MON., OCT. 1 – TBJ #631 -- Mrs. Norman, We Love You: Garnet High School in Charleston, WV was Tony Brown's high school. It was one of the most academically rigorous high schools in the nation and, as a result, in 1951, his freshman entrance exam to Wayne State University in Detroit was waived because of Garnet's outstanding academic record. The fact that Garnet was all-Black by laws that ironically resulted in an all-Black faculty that possessed advanced college degrees from a variety of prestigious universities that included The Sorbonne in Paris and many of the most distinguished Black colleges and White universities in the U. S.  On this edition, his English teacher, Mrs. Ruth S. Norman, and the all-Black school's standard of academic excellence and character building are profiled.  Garnet High School was named after Henry Highland Garnett, a former slave from the militant Mandingo tribe in Africa and later Jamaica, during America's segregated era.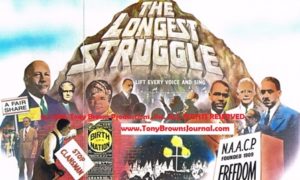 THE HISTORY OF THE NAACP ... This is the story of Black America and the NAACP's 75-year march to freedom and justice. This compelling 4-part docu-drama intertwines rare footage and documents seldom seen in modern times and dramatic reenactments of historic figures. This absorbing chronicle of the struggle for first-class citizenship is truly Black America's most powerful march.
TUES., OCT. 2 – TBJ #704 -- Reign of Terror – Part 1 – The Civil War was followed by a brief period of about 10 years (1867 – 1877) called Black Reconstruction when the racial camaraderie between Blacks and Whites, in some isolated parts of the South, was so intimate that northern carpetbaggers and abolitionists found it distasteful.  Subsequently, the Ku Klux Klan and other secret hate groups were born. Their tools: terror, murder and intimidation – and a Reign of Terror.
WED., OCT. 3 – TBJ #705 -- The Call -- Part 2 -- Between 1889 and 1918, 3,224 Black men and women were reported lynched. It was this era that gave birth to the NAACP and its struggle to survive in the face of violent adversity.
THURS., OCT. 4 – TBJ #706 -- War With Jim Crow -- Part 3 -- In practice, Jim Crow laws mandated racial segregation in all public facilities. As a body of law, Jim Crow institutionalized economic, educational, and social disadvantages for African Americans.
FRI., OCT. 5 – TBJ #707 -- 75-Year March -- Part 4 -- The march began in 1909, when a small group of White citizens, appalled by the injustices suffered by some Americans solely because of their race, formed the National Association For The Advancement of Colored People (NAACP). The NAACP emerged as the largest and most influential civil rights organization in the country until its decline. Its accomplishments in school desegregation, prison reform, open housing, equal employment and voter registration have been extraordinary.
TONY BROWN'S JOURNAL ON SOUL OF THE SOUTH TV NETWORK STATION LISTINGS
| | | |
| --- | --- | --- |
| (Listed by Market Size) | Over the Air | Cable/DSL |
| New York, New York | WDVB-LD - 23.2 | VERIZON FIOS - 477* |
| Chicago, Illinois | WRJK-LP - 22* | |
| Los Angeles, California | | FRONTIER - 269* |
| Houston, Texas | KHLM-TV - 43.3 | |
| Dallas/Fort Worth, Texas | | FRONTIER - 269* |
| Orlando, Florida | WZXZ-CA - 36.1 | |
| Tampa/St. Pete/Sarasota, Florida | | FRONTIER - 269* |
| Jackson, Mississippi | WLOO-DT - 35.2 | COMCAST - 220* |
| Nashville, Tennessee | WJDE-LD - 31.4 | |
| Columbus, Ohio | | FRONTIER - 158* |
| Minneapolis, Minnesota | | FRONTIER - 158* |
| Seattle, Washington | | FRONTIER - 269* |
| Little Rock, Arkansas | KKYK-CD - 30.3 | |
| Hartford, Connecticut | | FRONTIER - 158* |
| Charleston, South Carolina | | FRONTIER - 158* |
| Myrtle Beach, South Carolina | | FRONTIER - 158* |
| Dayton, Ohio | WRCX-LP - 40.1 | TIME WARNER - 22* |
| Rochester, New York | | FRONTIER - 158* |
| Beaumont, Texas | KUMY-LD - 22.1 | |
| Portland, Oregon | | FRONTIER - 269* |
| Ft Wayne, Indiana | | FRONTIER - 269* |
| Peoria-Bloomington, Illinois | | FRONTIER - 269* |
| Palm Springs, California | | FRONTIER - 269* |
| | | |
| Coming Soon | Over the Air | Cable/DSL |
| San Diego, California | KSDY -50.3* | ATT Uverse* |
| Louisville, Kentucky | WBNA* | |