BENJAMIN BANNEKER SPOKE TRUTH TO POWER -- Surveyor, Astronomer, Publisher, Patriot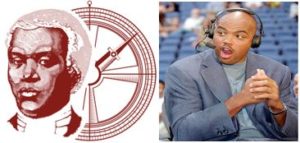 Imagine being Black in the 1700s and becoming a self-taught surveyor and slave from the royal bloodline in Mali who played a pivotal role in the architectural layout of the capital of the United States. In 1753, at the age of 22, Banneker constructed a striking wooden clock without having ever seen a clock before (although he had examined a pocket watch). He painstakingly carved the toothed wheels and gears of the clock out of seasoned wood. The clock operated successfully until the time of his death.
In 1791 alone, Benjamin Banneker completed the survey of Washington, DC, published his first almanac and confronted one of the nation's founders, Thomas Jefferson about his doctrine of Black inferiority.
Charles Barkley Tells Democrats: It's Time To 'Do Better' For Black Voters ... Now imagine being Black in the 21st century and hearing former NBA star and longtime Alabama native Charles Barkley weigh in on Democrat Doug Jones' shocking upset over Republican Roy Moore in the state's contentious Senate special election.
Barkley stumped for Jones during the campaign trail, but afterwards noted that Democrats have "taken the Black vote and the poor vote for granted for a long time."
"It's time for them to get off their a** and start making life better for Black folks and people who are poor," Barkley told CNN after the race was called for Jones. "They've always had our votes, and they have abused our votes, and this is a wake-up call. We've got them in a great position now, but this is a wake-up call for Democrats to do better for Black people and poor White people."
After all of the years of giving the Democratic Party over 90% of its vote, the Black community's chronic social and economic problems remain chronic, unresolved and unsolved.
The Democrats need to "get off their a***s" and "do better for Black people and for poor people." ("Charles Barkley Warns Democrats Not To Take Poor Folk, Black Vote For Granted, by Victor Morton, The Washington Times, 12/12/10)