FRENCH PRESIDENT EMMANUEL MACRON SALUTES BLACK U. S. PATRIOTS AS HISTORICAL FIGURES IN ADDRESS TO CONGRESS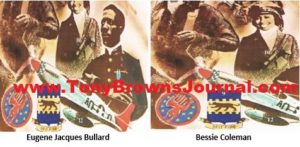 ... Amid the flurry of hugs, hand-holding and air-kisses, "Mr. Macron had come to Washington for the first state visit of the Trump presidency on a mission to persuade Mr. Trump to soften his opposition to the Iranian Nuclear Accord; lower trade tensions and coax the U. S. back into the fold of international cooperation," The Wall Street Journal reported. ("Macron Style Is Tested In Visit To US," by Stacy Meichtry, WSJ, 4/26/18, A6)
Tony Brown Brings Tony Brown's Journal Back to TV (see channel listing below)
Tony Brown Brings Tony Brown's Journal Back to TV (see channel listing below)
This reasoning matches my own suspicions about Macron's motives and proves that ultimately everyone's loyalty is to their own perceived reality. Thus, I suppose "me first" is as natural in nature as "I am" is in reality. As a result, French President Emmanuel Macron is on the side of Iran, not the U. S., in this matter.
MANCHURIAN CANDIDATES?
France's President Macron Told the truth about African-American Patriots, but was he also Iran's "Manchurian Candidate?" All and all, I got the impression that President Emmanuel Macron was "playing" the U. S. Congress to continue its financial support for Iran's economic growth that would greatly benefit the European economy and anti-American terrorist movements globally at the expense of the U. S. taxpayer.  As the European Union's second "Manchurian Candidate" in a row, German Chancellor Angela Merkel will make a similar pitch to President Trump in favor of the 2015 landmark Iran Nuclear Agreement, which gave Iran billions of U. S. taxpayer funds.
Whatever the case, Macron did tell the truth about the French-American alliance of the past that served both countries well, especially France's embrace of African Americans on its own shores.


President Macron was very persuasive and robustly represented the European Union and Iran's nuclear program interests above all. Foolish U. S. foreign policy. In the meantime, let us hope that the American Congress can learn about the greatness of some of its own Black population and develop a resistance to play the role of Iran's fool.
| | | |
| --- | --- | --- |
| (Listed by Market Size) | Over the Air | Cable/DSL |
| New York, New York | WDVB-LD - 23.2 | VERIZON FIOS - 477* |
| Chicago, Illinois | WRJK-LP - 22* | |
| Los Angeles, California | | FRONTIER - 269* |
| Houston, Texas | KHLM-TV - 43.3 | |
| Dallas/Fort Worth, Texas | | FRONTIER - 269* |
| Orlando, Florida | WZXZ-CA - 36.1 | |
| Tampa/St. Pete/Sarasota, Florida | | FRONTIER - 269* |
| Jackson, Mississippi | WLOO-DT - 35.2 | COMCAST - 220* |
| Nashville, Tennessee | WJDE-LD - 31.4 | |
| Columbus, Ohio | | FRONTIER - 158* |
| Minneapolis, Minnesota | | FRONTIER - 158* |
| Seattle, Washington | | FRONTIER - 269* |
| Little Rock, Arkansas | KKYK-CD - 30.3 | |
| Hartford, Connecticut | | FRONTIER - 158* |
| Charleston, South Carolina | | FRONTIER - 158* |
| Myrtle Beach, South Carolina | | FRONTIER - 158* |
| Dayton, Ohio | WRCX-LP - 40.1 | TIME WARNER - 22* |
| Rochester, New York | | FRONTIER - 158* |
| Beaumont, Texas | KUMY-LD - 22.1 | |
| Portland, Oregon | | FRONTIER - 269* |
| Ft Wayne, Indiana | | FRONTIER - 269* |
| Peoria-Bloomington, Illinois | | FRONTIER - 269* |
| Palm Springs, California | | FRONTIER - 269* |
| | | |
| Coming Soon | Over the Air | Cable/DSL |
| San Diego, California | KSDY -50.3* | ATT Uverse* |
| Louisville, Kentucky | WBNA* | |